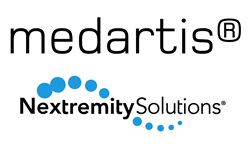 The acquisition of Nextremity Solutions is a great strategic and cultural fit.
BASEL, Switzerland (PRWEB) March 07, 2022
Medartis, a Swiss-based orthopedic company for head and extremity surgery, has announced its intent to acquire Nextremity Solutions, Inc., a Strategic Commercialization Organization (SCO) with a focus on the extremity musculoskeletal space, located in "The Orthopedic Capital of the World," Warsaw, Ind.
Founded in 2007, privately held Nextremity Solutions Inc. (NSI) is a highly regarded US MedTech company that has specialized in the design, development, and manufacturing of indication specific technologies for the treatment of fractures and deformities in lower and upper extremities. NSI is an excellent strategic fit to Medartis creating significant new growth opportunities in the US extremities market. Based on external market research, the USD 2 billion US foot and ankle market is among the fastest growing areas in orthopaedics due to new treatment concepts and demographic trends. With this acquisition, Medartis gains access to a highly dedicated and experienced R&D team, strong relationships to US design surgeons and industry thought leaders, a complementary product pipeline, IP portfolio, product knowledge, and a modern regional manufacturing base. 
Thanks to the acquisition, Medartis will be able to further accelerate and scale its current US expansion plans and views this transaction as a catalyst for its extremities business in the US and possibly elsewhere. To fully exploit the growth potential, Medartis US will significantly expand its distribution network and training & education offering. Its North American research and development center will be established in Warsaw (Indiana), where NSI is located. NSI has built a brand-new manufacturing plant for instruments and implants. The modern 69,500-square-foot (6,500m2) production area is expandable and will be used to serve the regional market needs. This will improve the natural currency hedge of the company and provide design transfer opportunities.
Medartis CEO Christoph Brönnimann commented, "In the US we strengthened our sales distribution and invested into training and education capabilities. The acquisition of Nextremity Solutions is a great strategic and cultural fit. The new R&D center and modern manufacturing facility in the US will be a catalyst to accelerate our extremities business in the US and potentially elsewhere. I am delighted that CEO Rod K. Mayer and his leadership team will stay with the company, complementing our local management team and working with us to grow our US business."
Nextremity Solutions CEO, Rod K. Mayer, who has been in the orthopaedic business for over 40 years, comments on the cooperation, "This partnership is an exciting opportunity to jointly develop and commercialize patient-centric solutions. Medartis has an excellent reputation among US upper extremity surgeons. By pooling our resources, we will make our current solutions available to more doctors and introduce further innovations to improve treatment options. We are excited to join a company that shares similar values to ours. We are both innovation- and precision-focused, work intensively with design surgeons, and are committed to patient well-being."
First products with significant sales potential to be launched in early 2023
The first products with significant sales potential are expected to be launched in early 2023. The total purchase price will be up to USD 70 million. Besides an initial cash payment of USD 40 million at closing, the purchase agreement includes milestone and earn-out payments of up to USD 30 million linked to the timing of product launches and achievement of certain sales targets. The transaction is expected to be completed in First Half 2022. This shared risk profile will allow Medartis to invest significant additional amounts in a dedicated foot & ankle franchise to be built over the next 3 years. The funding of the acquisition can be financed from existing cash resources and future cash flow. Additional financing options are also being examined.
About Medartis
Founded in 1997 and headquartered in Basel, Switzerland, Medartis is one of the world's leading manufacturers and providers of medical devices for surgical fixation of bone fractures for upper and lower extremities as well as for the craniomaxillofacial region. Medartis employs over 680 individuals across its 14 locations, with products offered in over 50 countries globally. Medartis is committed to providing surgeons and operating theatre personnel with the most innovative titanium implants and instruments as well as best in class service. For more information, please visit http://www.medartis.com.
About Nextremity Solutions, Inc.
Nextremity Solutions, Inc. is a privately held Strategic Commercialization Organization (SCO) with a focus on lower and upper extremity, trauma, sports medicine and joint preservation, offering innovative solutions and Revenue Ready® products for various extremity musculoskeletal applications and for the benefit of our industry partners. The Company's procedure-ready, sterile implant systems include uniquely precise, proprietary technology designed to achieve repeatable and superior clinical outcomes. For more information, please visit http://www.nextremity.com.
Media Inquiries
Medartis:
Fabian Hildbrand
Head of Corporate Communications
Media contact: corporate.communication@medartis.com
+41 61 633 37 36
Nextremity Solutions:
Dave Temple
VP of Marketing & Corporate Communications
Media contact: dave.temple@nextremity.com
574-635-3022