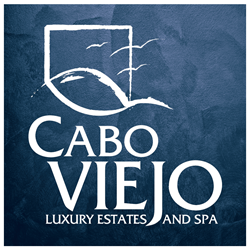 Cabo San Lucas, Mexico (PRWEB) November 20, 2014
Located in the exclusive Pedregal community, looking back on the picturesque town of Los Cabos, sits Cabo Viejo Luxury Estates & Spa. The resort is a beautiful boutique property with stunning villas which offers a wonderful array of amenities for guests and owners. Visitors fall in love with the property, as it is very unique for Los Cabos. Most Cabo San Lucas resorts are located on the beach, or on golf courses, but lack charm and are very similar in design. As guests enter Cabo Viejo, the exclusivity yet proximity to downtown is very enticing. In fact, the resort has experienced so much demand, the once again a new sales center has been constructed to support the traffic of guests touring the facility.
Private Residence Club Cabo Viejo Luxury Estates & Spa knows that privacy and relaxation are important to its guests. As the resort grows not only in popularity, but expands in size as well, there is a need to maintain the charm and privacy the resort has become so popular for offering. The new sales center overlooking the town and Cabo San Lucas Bay is located on the 3rd floor of the building. Instead of occupying valuable pool lounging space or areas enjoyed by members, the resort developers were able to make this sales center in the perfect location.
Cabo Viejo Luxury Estates & Spa is quite different from other resort ownership opportunities in Los Cabos. One of these main differences is that owners here own several weeks as this is not a normal "timeshare" option. Villas are very large with 2 bedrooms or more with a very large terrace, kitchen and dining area. All of the comforts of home and more are available.
With high season upon Los Cabos, a newly refurbished airport and downtown, the high season is projected to be very busy. The new sales center at Private Residence Club Cabo Viejo, will assist greatly to service interested visitors, and also allows current guests and owners to maintain their privacy and resort areas, and enjoy their vacations in paradise.
For more information about Cabo Viejo Luxury Estates and Spa, please visit http://caboviejo.com.