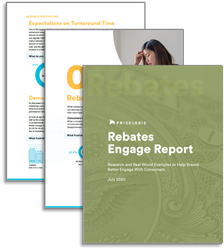 SOUTHFIELD, Mich. (PRWEB) July 15, 2020
PrizeLogic, the largest independent incentivized engagement company whose clients include PepsiCo, MolsonCoors, Lowe's and Samsung released the results of its latest research study, "Rebates Engage Report". The report examines consumer participation, preferences and attitudes towards product and service rebates.
Key takeaways from the 2020 Rebates Engage Report include:

Participation: Over 85% of consumers have redeemed a rebate, with 42.7% redeeming one within the last year.
Influence on Purchase: Rebate value proposition (rebate value associated with purchase requirement) plays a key role in purchase motivation. A $5 rebate on a $25 purchase was found to be the most compelling value proposition with 80.2% of respondents saying they would be motivated to make a purchase.
Submission Preferences: 81.6% prefer to submit their rebates digitally, with 72.1% of 60+ consumers opting for digital over physical submission.
Fulfillment Expectations: 81.5% of consumers believe they should receive their rebate in 1-2 weeks when submitting digitally.
Top Frustrations: More consumers are frustrated by all the steps required for redemption (61.3%) and the amount of time it takes to receive their rebate (59.0%) than having to pay shipping & handling to receive their rebate (44.2%).
"Rebates provide great purchase and engagement opportunities for retailers, manufactures and service providers," says Ryan LaMirand, CEO of PrizeLogic. "By trading value to get value, rebate programs not only motivate purchase but also provide rich consumer insight that allows brands to deepen and expand relationships with their customers and consumers on a one-to-one level."
Methodology
This research conducted by PrizeLogic examined 1,000+ participants' participation, preferences and frustrations in rebate programs. All participants reside in the U.S. and range between 18-60+ in age.
About PrizeLogic
Founded in 2008, PrizeLogic is the largest independent digital engagement company and a trusted partner to both Fortune 500 brands and leading agencies. The company's solutions combine incentives, experience and insight to influence behavior more effectively across the customer journey. The PrizeLogic Engage Platform powers loyalty programs, sweepstakes, contests and rebate programs for clients such as MillerCoors, PepsiCo, Samsung and Capital One. For more information, visit http://www.prizelogic.com.