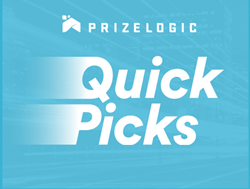 PrizeLogic-quality promotions, built for speed & efficiency
SOUTHFIELD, Mich. (PRWEB) April 16, 2020
PrizeLogic, the leading independent incentivized engagement company whose client roster includes over 250 of the world's best-known brands, has unveiled a new product called Quick Picks – a set of turnkey promotion solutions built for speed and efficiency.
The initial four Quick Pick program options include Sweepstakes, User Generated Content, Social Hashtag Sweepstakes Promotions, and Gift with Purchase. Each Quick Pick program offers executional flexibility and cost savings with an expedited timeline, exemplified by the recently launched Social Hashtag Sweepstakes for #TheGreatAmericanTakeout campaign, designed to increase awareness and participation in support of restaurants nationwide.
"We understand the current situation we are all in is unprecedented and ever-evolving," says Ryan LaMirand, CEO of PrizeLogic. "With marketing budgets being slashed and programs changing rapidly, we decided to speed up the development and release of a new turnkey solution that allows you to quickly bring promotions to market at lower marketing spends. Our focus right now is helping our clients and the economy overall with great engagement solutions to get consumers back into the market when the time is right for each business. Quick Picks helps make that possible, even with evolving timelines."
In addition to expedited creative and development builds, every Quick Pick program includes PrizeLogic's best-in-class services and benefits such as Program Rules, Bonding and Registration, Winner Selection, CCPA Compliance and industry leading security with ISO27001 Certification and Security Scorecard A Rating.
For more information on Quick Picks, visit https://prizelogic.com/work-tags/quick-picks/
About PrizeLogic
Founded in 2008, PrizeLogic is the largest independent digital engagement company and a trusted partner to both Fortune 500 brands and leading agencies. The company's solutions combine incentives, experience and insight to influence behavior more effectively across the customer journey. The PrizeLogic Engage Platform powers loyalty programs, sweepstakes, contests and rebate programs for clients such as MillerCoors, PepsiCo, Samsung and Capital One. For more information, visit http://www.prizelogic.com.