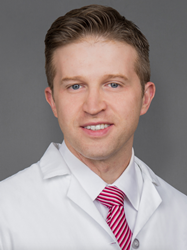 I am honored to join a practice dedicated to serving patients with a mission of rebuilding lives after breast cancer.
SAN ANTONIO, Texas (PRWEB) November 18, 2020
PRMA Plastic Surgery | Center for Advanced Breast Reconstruction opened its doors to serve the local San Antonio, Texas breast cancer community over 25 years ago. Since the practice welcomed its first patient in 1994, PRMA has grown to be one of the leading breast reconstruction centers in the world.
To expand patient care, PRMA is excited to welcome Dr. Andrew Gassman to the team!
Dr. Gassman is a board-certified plastic surgeon and breast reconstruction surgeon with extensive experience in autologous reconstruction options like the DIEP flap.
To date, PRMA has performed over 10,000 state of the art breast reconstruction procedures on patients following a mastectomy or lumpectomy. The practice continues to welcome patients from across Texas and around the world!
Dr. Gassman says he is "honored to join a practice dedicated to serving patients with a mission of rebuilding lives after breast cancer."
Dr. Gassman earned his medical degree from Loyola University Stritch School of Medicine in Maywood, Illinois. He completed his plastic and reconstructive surgery residency at UCLA David Geffen School of Medicine in Los Angeles, California and a general surgery residency, as Chief of Surgical Resident Education, at Loyola University Medical Center in Maywood Illinois. Following his residency, Dr. Gassman completed his fellowship in breast and reconstructive microsurgery, with a subspecialty in facial reanimation at UTSW Department of Plastic and Reconstructive Surgery in Dallas, Texas.
An active researcher with a number of publications, book chapters and abstracts, Dr. Gassman's clinical research interests include pain reduction after breast reconstruction, enhanced patient recovery after reconstruction, and multi free flap breast reconstruction and perforator free flap reconstruction. Dr. Gassman's also has a passion for teaching and has spent many years as an associate professor teaching future plastic surgeons advanced breast reconstruction techniques.
His specialized training led him to PRMA where he joins plastic surgeons Peter Ledoux, Steven Pisano, Chet Nastala, Minas Chrysopoulo, Gary Arishita, Oscar Ochoa, and Ramon Garza III performing the latest microsurgical breast reconstruction techniques and lymphedema surgery.
Dr. Gassman is available for appointments starting in January of 2021 at PRMA's Medical Center office located at 9635 Huebner Road, San Antonio, TX 78240. To schedule call 800-692-5565