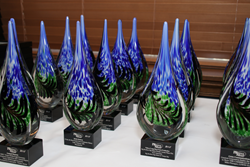 We're honored to receive award recognition from the Public Relations Society of America Sunshine District and our fellow PR professionals for our work on these campaigns.
TAMPA, Fla. (PRWEB) November 19, 2018
PRmediaNow has won several awards from the Public Relations Society of America's Sunshine District and PRSA Tampa Bay.
PRmediaNow, which specializes in crowdfunding PR to help companies around the world launch innovative products, received a 2018 PRestige Award for Best Media Relations Tactics and a 2018 Radiance Award for Best Media Relations Tactics – both for work with X Suit.
The X Suit campaign focused on generating earned media coverage to drive traffic to the X Suit Kickstarter Page, where the XYZ Company raised more than $360,000 to become the most-funded suit in Kickstarter history. As a result, XYZ Company has transitioned into full-scale mass manufacturing and global distribution. X Suit is now sold online to consumers around the world.
"X Suit is very cool product that's a traveler's dream…it can be literally stuffed into a carry-on bag, while its wrinkle defense technology and stretch material ensures the suit springs back into shape with just a shake," said PRmediaNow Principal Colin Trethewey. "It's also great at the office, on the town and anywhere a spilled coffee or drink could happen. The suit repels liquids, so you simply wipe away any spill. We were honored to have the opportunity to share the X Suit story with business people and travelers around the world via media coverage."
PRmediaNow also won a 2018 PRestige Award for Best Media Kits for its work on the crowdfunding campaign 'Nise Wave Sous Vide - Cooking Up Crowdfunding Success.'
The Nise Wave Wi-Fi Sous Vide, an automated high-tech personal chef that can transform any pot of water into a precision cooking device using the sous vide method, raised $290,000 during its crowdfunding campaign on Kickstarter.
"Nise Wave is made for busy people, foodies and chefs alike. It uses smart algorithms to allow users to schedule the exact time they would like to eat," Trethewey said. "It offers 'set it and forget it' functionality with the sous vide technique allowing busy people have the perfect meal, heated-up and ready, at the end of the day."
Trethewey accepted the PRestige Awards along with PRmediaNow colleague Coleen Murphy during the annual PRSA Tampa Bay PRestige Awards event.
Award submissions were judged by an independent panel of senior PR practitioners from the PRSA Thoroughbred chapter in central Kentucky. Campaigns were selected for demonstrating excellence in research, planning, implementation and evaluation.
"We're honored to receive award recognition from fellow PR professionals for our work on these campaigns," he said.
Both the PRestige and Radiance Awards recognize outstanding strategic public relations by Florida based agencies and organizations, as well as individual practitioners who have shown great commitment to the profession.
For more information about PRmediaNow and the services it provides to crowdfunding and non-crowdfunding clients, visit http://www.PRmediaNow.com.
About PRmediaNow
PRmediaNow, LLC is a full-service international public relations agency that focuses on securing media coverage for companies and their products. In 2015 PRmediaNow led the PR campaign for the record-breaking BauBax Travel Jacket Kickstarter campaign that raised $9.19 million USD, to become the 4th most-funded Kickstarter product at the time. PRmediaNow has since helped crowdfunding clients raise over $60 million. PRmediaNow prides itself on creativity, responsiveness and providing high-level customer service to clients, while delivering media-outreach campaigns that result in major media coverage and viral spread on social media and the Internet. For more information, please contact info@PRmediaNow or visit http://www.PRmediaNow.com.