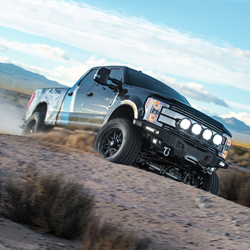 "The new Pro Comp Super Duty 4-link kit offers better driveability than the factory radius arm design with more predictable handling and improved tire wear," said Tim Watts, Suspension and Performance Category at Transamerican Auto Parts. "You also give your truck a truly impressive appearance."
COMPTON, Calif. (PRWEB) December 21, 2018
Eight inches of lift on 40s have never been so civilized. Pro Comp's wicked new 4-link suspension kits provide up to 8 inches of lift while providing optimum control and stability for the 2017-19 Ford Super Duty.
These new kits maintain the ideal roll center while increasing wheel travel for improved off-road performance. Specially-engineered brackets position the extended-length control arms in the perfect 4-link geometry to deliver compliant ride quality and minimal caster and pinion angle change. Heavy duty, tubular upper control arms can be adjusted on-vehicle for easy caster adjustments. An added crossmember between the 4-link brackets provides rock protection for your transfer case and custom-stamped steel lower arms are engineered to clear 40-inch tires at full steer.
Pro Comp backs its products with rigorous safety tests and some of the industry's strongest warranties. Unlike other manufacturers who self-test through laboratory simulation, Pro Comp receives certification through the Federal Motor Vehicle Safety Standard (FMVSS 126) test, where a product's true capabilities can be measured accurately and proven to complement the vehicle's factory safety system. The Pro Comp Promise Warranty promises that all suspension products are free of defects and will last a lifetime, or it will be replaced free of charge. Finally, the Lift Shield Warranty goes beyond a typical product guarantee and protects the vehicle on which it is installed for 5 years or 60,000 miles (whichever comes first).
The Pro Comp Ford Super Duty 4-link Suspension Kits are available with ES9000 twin tube shocks or without shocks. Kits with Pro Runner monotube or 2.5 Reservoir shocks will be available in 2019.
Features

Bolt-on 4-link control arm brackets
Heavy duty tubular upper control arms
Custom-stamped steel construction lower arms
4-link bracket crossmember adds strength and transfer case protection
4- and 6-inch kits clear up to 37-inch tires
8-inch kits clear up to 40-inch tires
4-link Upgrade Kit (K4215B) available to convert existing Stage I/Stage II 4 or 6 inch kits
FMVSS 126-approved
Pro Comp Promise Warranty
Lift Shield Warranty
Kit and shock options:

Kit with no shocks
Pro Comp ES9000 twin tube shocks
Pro Comp Pro Runner shocks (available in 2019)
Pro Comp 2.5 Reservoir shocks (available in 2019)
Images and copy: http://bit.ly/ProComp_SuperDuty_4-Link
For more information, please contact:
Joy Aoki | Marketing Department | 310- 900-2614 | jaoki(at)4wp.com
About Transamerican Auto Parts: Transamerican Auto Parts is the largest independent manufacturer in the United States of innovative and performance aftermarket off-road accessories. For more than 50 years, TAP has been an industry leader in the manufacture, distribution, and sale of off-road parts for Jeeps and light trucks. TAP's industry-leading brands include Pro Comp, Smittybilt, Rubicon Express, Poison Spyder, G2 Axle & Gear, LRG Rims and Trail Master Suspension.