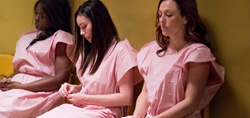 "There's a disconnect in our culture right now," said Save the Storks Spokesperson, OBGYN and Women's Health Specialist Dr. Karysse Trandem. "The majority of Americans believe that life begins at or before the heartbeat, but the majority of evangelicals and Catholics are pro-choice."
COLORADO SPRINGS, Colo. (PRWEB) November 12, 2019
Pro-life organization Save the Storks released a new study on abortion today that found the majority of self-identified Christians are pro-choice.
"Market Study of The Pro-Life/Pro-Choice Cause" found that while the most dominant pro-life demographic is evangelicals, less than half, or 47 percent identify as pro-life. Only 33 percent of main line protestants identify as pro-life. Catholics are the lowest percentage at just 27 percent.
"These findings underscore how important it is to be diligent in the education of the general public pertaining to this issue," said Save the Storks Director of Media Relations and Community Affairs Victoria Robinson. "I think there will be many who will be unpleasantly surprised by the findings in this survey. If this cause is important to you, complacency is no longer an option."
The study's findings about American attitudes and opinions on abortion, particularly among Americans of faith, show that the U.S. church has yet to fully embrace a culture of life.
"There's a disconnect in our culture right now," said Save the Storks Spokesperson, OB/GYN and Women's Health Specialist, Physician Dr. Karysse Trandem. "The majority of Americans believe that life begins at or before the heartbeat, but the majority of evangelicals and Catholics identify as pro-choice."
Other key findings from the study include:

67 percent of Americans believe that life begins at or before the heartbeat
20 percent of pro-choice respondents stated abortion would not be an option for their own unplanned pregnancy
17 percent of Catholics would consider abortion an option
58 percent of Catholics and 51 percent of mainline protestants believe abortion is a private issue, just for the woman to determine
"We hope this research is the beginning of an honest dialogue among Christians," said Save the Storks President, Paul Isaacs. "We are going to have to work harder to equip the next generation of Christians to have a more life-affirming ethic on this issue."
The study, conducted by leading research-based firm Magid, draws on data from a nationally representative survey of 1,000 American adults -- 34.7% aged 18-34, 37.5% aged 35-54, and 27.8% aged 55+. Of those 1,000 people surveyed this is the breakdown by religion: 26% Catholic, 15% Evangelical, 15% Main Line Protestant and 13% non-religious.
Save the Storks Online
Facebook: @SaveTheStorks
Instagram: @SaveTheStorks
Website: SaveTheStorks.com
About Save The Storks
Save the Storks' mission is to revolutionize the meaning of pro-life. This organization partners with pregnancy resource centers in the United States to empower women with choice during pregnancy. Save the Storks has captured the imagination of millions with their compelling social media posts, videos and with its innovative fleet of Mobile Medical Units known as Stork Buses. To date, Save the Storks has delivered 51 buses, with three additional Stork Buses in production and nine in fundraising.
Dr. Karysse Trandem is available for interviews. To schedule an interview with her, contact Brittany Smith at brittany.smith@savethestorks.com (phone 704-661-8996) or Diane Ferraro at diane@savethestorks.com (phone 626-222-9388).