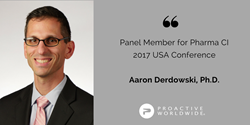 Chicago, IL (PRWEB) August 29, 2017
Proactive Worldwide, Inc. (PWW) announced that Senior Engagement Manager Aaron Derdowski will participate in a panel discussion during Pharma CI's 2017 USA Conference and Exhibition in Parsippany, NJ on September 12-13, 2017.
The talk will focus on the expanding role of competitive intelligence in the Pharma industry and how to deploy it most effectively to improve market share. Dr. Derdowski, who received his Ph.D. in Microbiology and Immunology and has a critical scientific review, medical writing, and university-level teaching background, leads PWW's engagements for a broad set of clients covering life sciences, healthcare, and medical devices.
Gary Maag, PWW's CEO and co-founder, said Dr. Derdowski will explain how Proactive Worldwide incorporates multiple sources of intelligence to provide more accurate estimates of rival pharma companies' manufacturing capacities. Maag noted, "Aaron will stress that, given the ultra-competitive nature of Pharma, having the capability to periodically and accurately assess a rival's drug manufacturing capacity becomes a crucial advantage in determining the level of competitive threat." For more information or to register for this event, please visit the following site: http://usa.pharmaciconference.com/.
About Proactive Worldwide, Inc.
Proactive Worldwide, Inc. is a global research and strategic intelligence consulting firm that provides evidence-based, constructive information within the competitive intelligence, market intelligence, and customer insights domains. Anchored by primary source research for over 21 years, Proactive's multilingual professionals assist our clients with offerings that include but are not limited to competitive research and assessment services, market entry and defense strategies, war gaming simulations and scenario planning events, and customer experience and user experience studies. To learn more, visit http://www.proactiveworldwide.com