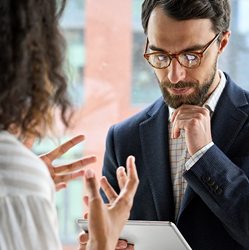 Successful organizations take the time to understand the tools and challenges and create Microsoft 365 governance strategies to support business needs.
HOBOKEN, N.J. (PRWEB) November 04, 2021
Messaging Architects, an eMazzanti Technologies Company, Microsoft expert, and information governance consultant discusses Microsoft 365 governance in a new article. The informative article first asserts that increasingly complex tools require proactive Microsoft 365 governance to achieve optimal results.
The author then argues that organizations must balance productivity with control to avoid a rise in shadow IT. He also advocates clarifying business needs and goals and then building a governance plan around those goals on a foundation of policies.
"Successful organizations take the time to understand the tools and challenges and create Microsoft 365 governance strategies to support business needs," stated Greg Smith, Vice President of Services Delivery at Messaging Architects.
Below are a few excerpts from the article, "Proactive Microsoft 365 Governance Balances Productivity and Control."
Balancing Productivity with Control
"In addition to increasingly complex tools, administrators must balance the need for productivity with a constantly evolving threat landscape and regulatory pressures. Microsoft 365 governance allows administrators to strictly control user access and automate policies for data sharing and retention."
"These controls aid security and compliance. However, too much structure can lead to reduced productivity when users must deal with multiple logins and strict controls over sharing. This frustration may spark a rise in shadow IT as employees find ways to collaborate outside the approved applications."
Planning Leads to Success
"That sweet spot of good governance looks different for each organization. Ideally, Microsoft 365 assists companies with solving business problems and meeting organizational objectives. To that end, administrators need to take a proactive approach to designing and implementing an information governance strategy."
Build Information Governance on a Foundation of Policies
"A key tool for governing information to reach business goals and achieve compliance involves policies. In the case of data retention, for instance, Microsoft 365 Records Management allows organizations to define data retention at both the folder level and the file level."
Partner with Experts to Optimize Microsoft 365 Governance
Microsoft 365 provides organizations with powerful tools that connect teams, protect data assets and support innovation. But powerful tools require fine-tuning and careful management. Understanding the options available and configuring them properly can prove challenging.
The information governance consultants at Messaging Architects bring extensive experience in Microsoft 365. From initial assessment to creating effective policies, understanding the nuances of Microsoft Groups, and navigating security and compliance, they provide the expertise business leaders need for success.
Have you read?
Exchange Server Breaches Show It's Not Just About Uptime
Microsoft Read Aloud Feature Improves both Accessibility and Productivity
About Messaging Architects
Messaging Architects specializes in effectively managing and securing an organization's most precious asset, its information. With over 20 years of information management and technology consulting experience, the Messaging Architects team has provided corporations, educational intuitions, health care facilities and nonprofits with methodologies, procedures, and technology to keep their data organized, compliant and secure.
About eMazzanti Technologies
eMazzanti's team of trained, certified IT experts rapidly deliver increased revenue growth, data security and productivity for clients ranging from law firms to high-end global retailers, expertly providing advanced retail and payment technology, digital marketing services, cloud and mobile solutions, multi-site implementations, 24×7 outsourced network management, remote monitoring, and support.
eMazzanti has made the Inc. 5000 list 9X, is a 4X Microsoft Partner of the Year, the #1 ranked NYC area MSP, NJ Business of the Year and 5X WatchGuard Partner of the Year! Contact: 1-866-362-9926, info@emazzanti.net or http://www.emazzanti.net Twitter: @emazzanti Facebook: Facebook.com/emazzantitechnologies.