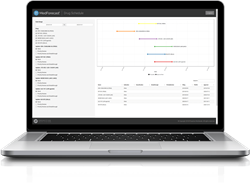 With Medforecast®, it's all done for you—now we can predict drug approval within five days
SCHAUMBURG, Ill. (PRWEB) August 20, 2018
Strategic Intelligence consulting group Proactive Worldwide, Inc. (PWW) announced the latest release of its drug approval forecasting and tracking tool, MedForecast®. Accessed through its own dedicated site, MedForecastPro.com, MedForecast® provides comprehensive contextual data, research, and investment decision support for pharmaceutical and financial clients seeking investment opportunities for new medical treatment breakthroughs that are in the drug development pipeline and on track to receive approval.
MedForecast®, which was built by inputting and analyzing the data from all drug approvals, ever, incorporates real-time data collection, integrative analytics and Bayesian inference modeling to yield exceptionally accurate drug approval and launch predictions. PWW's COO Erik Prentice explained that several factors, including new frontiers in medicine and growing investment in pharmaceutical products are driving the demand for better drug approval predictions concerning efficacious medical treatments.
"Investors want to find those groundbreaking treatments that offer the best chance to 1) make it to market before the competition; and 2) provide profitable returns on investment for companies underwriting R&D and clinical trial costs," Prentice stated. He explained that drug approval forecasting was incredibly labor-intensive in the past, requiring many hours of hand calculating approval dates and monitoring the news to gauge those events that impacted drug approvals. "With Medforecast®, it's all done for you—now we can predict drug approval within five days," Prentice added.
MedForecast® has identified dozens of factors that influence drug approval timelines, and automatically monitors these influencers to track individual drugs or even entire classes of drugs. The newest release of MedForecast® offers visual enhancements with easy-to-use analytic filters and sort functions for subscriber clients to research new drug therapies with comparative analysis capability on competing treatments. After a year of testing and fine-tuning its beta version, Prentice said, "MedForecast® is a revolutionary approach to drug approval forecasting that is easier, faster, and more accurate than anything before."
About Proactive Worldwide, Inc.
Proactive Worldwide, Inc. is a global research and strategic intelligence consulting firm that provides evidence-based, constructive information within the competitive intelligence, market intelligence, and customer insights domains. Anchored by primary source research for over 22 years, PWW's multilingual professionals assist clients with offerings that include but are not limited to market intelligence and competitive research services, market entry and defense strategies, war gaming workshops and scenario planning events, and customer experience and voice of customer studies. To learn more, visit http://www.proactiveworldwide.com