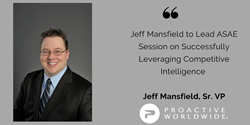 SCHAUMBURG, Ill. (PRWEB) August 08, 2018
Proactive Worldwide's Jeff Mansfield will be presenting PWW's expert take on "Leveraging Competitive Intelligence for Business Success" on August 19, 2018 at McCormick Place Convention Center in Chicago, Illinois. Mansfield's session will take place at the ASAE (American Society of Association Executives) 2018 Annual Meeting & Exposition conference from August 18–21, 2018.
Mansfield will share what competitive intelligence is, how organizations use it, and how it can specifically help the professional association industry. He explained, "The goal is to show how top organizations are currently using competitive intelligence to gain better market insights, and then pivot to some of the specific benefits CI brings to associations relating to service offerings, member engagement, and increasing revenues, for example." Mansfield added that key takeaways will include approaches to building competitive intelligence capability with limited resources, instituting early warning systems to identify threats to growth, and using CI to provoke change in the mindset of leadership toward more proactive, strategic thinking.
The ASAE conference brings thousands of association professionals and industry partners together to exchange resources, strategies, and solutions. ASAE says, "Over three days of learning, growing, and finding inspiration, attendees gain a year's worth of practical ideas and colleague support to fuel their work as leaders in the association industry." Click this link, ASAE 2018 Annual Meeting & Exposition August 18–21, 2018 for additional information or to register for the conference
About Proactive Worldwide, Inc.
Proactive Worldwide, Inc. is a global research and strategic intelligence consulting firm that provides evidence-based, constructive information within the competitive intelligence, market intelligence, and customer insights domains. Anchored by primary source research for over 22 years, PWW's multilingual professionals assist clients with offerings that include but are not limited to market intelligence and competitive research services, market entry and defense strategies, war gaming workshops and scenario planning events, and customer experience and voice of customer studies. To learn more, visit http://www.proactiveworldwide.com