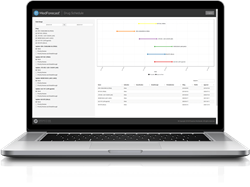 SCHAUMBURG, Ill. (PRWEB) September 19, 2018
Dr. Erik Prentice, COO of Proactive Worldwide (PWW), will be traveling to New Jersey later this month to share his expertise on PWW's MedForecast® automated drug approval forecasting tool during the Pharma Competitive Intelligence Conference and Exhibition, to be held September 26-27, 2018.
MedForecast®, which was built by inputting and analyzing the data from all drug approvals, ever, incorporates real-time data collection, integrative analytics and Bayesian inference modeling to yield exceptionally accurate drug approval and launch predictions. After a year of testing and fine-tuning its beta version, Prentice said, "MedForecast® is a revolutionary approach to drug approval forecasting that is easier, faster, and more accurate than anything before."
MedForecast® has identified dozens of factors that influence drug approval timelines, and automatically monitors these influencers to track individual drugs or even entire classes of drugs. The newest release of MedForecast® offers visual enhancements with easy-to-use analytic filters and sort functions for subscriber clients to research new drug therapies with comparative analysis capability on competing treatments.
About Proactive Worldwide
Proactive Worldwide, Inc. is a global research and strategic intelligence consulting firm that provides evidence-based, constructive information within the competitive intelligence, market intelligence, and customer insights domains. Anchored by primary source research for over 22 years, Proactive's multilingual professionals assist our clients with offerings that include but are not limited to competitive research services, competitor assessments, market entry and defense strategies, war gaming simulations and scenario planning events, and customer experience and user experience studies. To learn more, visit http://www.proactiveworldwide.com