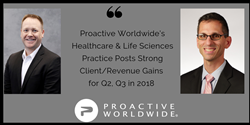 SCHAUMBURG, Ill. (PRWEB) November 13, 2018
Competitive Intelligence consulting group Proactive Worldwide, Inc. (PWW) announced the strategic expansion of its Health Care & Life Sciences practice is enjoying a high rate of return and continues trending up based on financial progress reports tracking from Q2 through Q3 in 2018.
PWW's HCLS practice leaders Travis Smith, Ph.D. and Aaron Derdowski, Ph.D. direct a team of prominent Ph.D. and MBA-level researchers and analysts who focus on primary and secondary research in Pharma and Biotech, Healthcare and Pharmacy Systems, and Medical Device technology. Smith said that while many of PWW's engagements have targeted the healthcare and life science-related fields in the past, the firm's own market research indicated that demand for competitive intelligence-based consulting services would accelerate in 2018 and continue to rise well into 2020 and beyond. "We've been aware of growing private-sector investment in R&D in recent years from biopharmaceutical developers, medical technology developers, and healthcare service companies as a response, in part, to R&D budget cuts at the federal level," he revealed.
Smith said PWW's expansion of HCLS competitive intelligence services responds to this industry sector's growing conviction that accurate information supports both investment and innovation. "Our clients say they depend on precise, real-time industry research to make far-reaching business choices that can improve market share or hold off competition," he maintained, adding that 2018 marked a steady increase in clients in each of the HCLS verticals.
PWW's HCLS team employs competitive monitoring of all aspects of pharmaceutical, medical device product development, tracking and analysis of competing manufacturers' drug approvals and drug launch dates in real time. In addition, the team provides medical conference monitoring and double-blinded key opinion leader interviews or direct participation/presentation to advisory boards. Their work also involves assessments of potential investment and M&A opportunities, and evaluating current salesforce structures, approaches and conversion rates to better target, secure, and maintain steady financial investment streams.
The latest release of its drug approval forecasting and tracking tool, MedForecast, is accessed through its own dedicated site, MedForecastPro.com. MedForecast provides comprehensive contextual data, research, and investment decision support for pharma clients seeking investment opportunities for new medical treatment breakthroughs that are in the FDA pipeline and on track to receive approval. Derdowski said that generating exceptionally accurate drug approval and launch predictions will allow Pharma clients to take more proactive stances in future investment decisions, determining how to best compete in the highly competitive world of drug research and innovation.
About Proactive Worldwide, Inc.
Proactive Worldwide, Inc. is a global research and strategic intelligence consulting firm that provides evidence-based, constructive information within the competitive intelligence, market intelligence, and customer insights domains. Anchored by primary source research for over 22 years, Proactive's multilingual professionals assist our clients with offerings that include but are not limited to competitive research and monitoring services, competitor assessments, market entry and defense strategies, war gaming workshops and scenario planning events, and customer experience and user experience studies. To learn more, visit http://www.proactiveworldwide.com