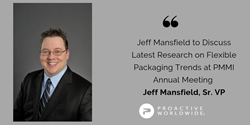 The flexible packaging market continues to see an influx of change
SCHAUMBURG, Ill. (PRWEB) November 09, 2018
Proactive Worldwide's Senior Vice President for Consumer and Industrial Goods, Jeff Mansfield, is slated to unveil the firm's most recent research findings targeting leading-edge flexible packaging solutions currently gaining traction in the market during PMMI's annual meeting in Tampa, Florida. PMMI, The Association for Packaging and Processing Technologies, will conduct its annual meeting themed, "Charting Your Operational Course," at the Tampa Marriott Waterside Hotel and Marina from November 12 – 14, 2018.
Because PWW's multi-year market intelligence monitoring for PMMI has been tracking advancements and latest trends in both packaging materials and packaging process technologies since 2010, Mansfield said the firm is in a unique position to help the consumer-packaged goods industry, their manufacturing partners, and those in industrial technology stay current and competitive in their respective spaces.
Mansfield noted this session will highlight those findings from its most recent market data on the flexible packaging industry and assist impacted organizations in 1) understanding how things are changing and 2) provide actionable items to help organizations stay ahead of changes and disruption. "The flexible packaging market continues to see an influx of change and opportunity as organizations look for new and inventive ways to maintain food/product safety as well as make it attractive to consumers," he added.
For more information about PMMI, go to pmmi.org
About Proactive Worldwide
Proactive Worldwide, Inc. is a global research and strategic intelligence consulting firm that provides evidence-based, constructive information within the competitive intelligence, market intelligence, and customer insights domains. Anchored by primary source research for over 22 years, Proactive's multilingual professionals assist our clients with offerings that include but are not limited to competitive research and monitoring services, competitor assessments, market entry and defense strategies, war gaming workshops and scenario planning events, and customer experience and user experience studies. To learn more, visit http://www.proactiveworldwide.com