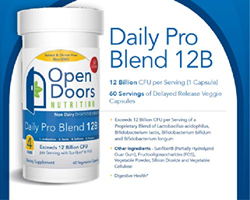 Boston, MA (PRWEB) July 10, 2014
OpenDoors Nutrition is a new dietary supplement company that has just launched its first product called Daily Pro Blend 12B. This daily probiotic supplement was carefully researched and manufactured to ensure consumers get exactly what they are looking for.
With over one hundred trillion living bacteria in the gut, it is essential that a supplement delivers adequate useful probiotics for an individual too see any health benefit.
OpenDoors Nutrition has created a list on how to choose a good probiotic. Every consumer should make sure a probiotic is lab tested, meets cGMP compliances, provides adequate CFU per serving, and provides safeguards to ensure the capsules enter the gut alive.
Unfortunately, it is common for many probiotic strains to arrive dead, making them entirely useless, and ultimately a waste of money. Due to how powerful stomach acids are, many probiotics are killed before arriving at the digestive tract. Additionally, probiotics are very sensitive and lose their potency when exposed to light, air, oxygen, or moisture. This can result in some probiotic supplements becoming completely ineffective by the time it is consumed by unaware purchasers.
However, there are many ways a company can help guarantee their product will reach the stomach alive. For example, the probiotics can be protected from light, air, oxygen, and moisture by using advanced bottling methods. OpenDoors Nutrition uses moisture resistant air tight Activ-Polymer™ Bottles to enhance stability of the probiotics.
Furthermore, a supplement that is encapsulated in delayed release pills will help it bypass stomach acids so it can reach the intestines alive. Daily Pro Blend 12B utilizes delayed release veggie capsules to prevent compromising the live count of the probiotics. Nevertheless, these protective measures are meaningless if the product was neither manufactured in cGMP facility nor tested for the stability of the strains.
In 1994, the Food and Drug Administration (FDA) created the Dietary Supplement Health and Education Act which attempts to make certain that supplements are safe for consumers. This act established Current Good Manufacturing Practice (cGMP) regulations enforced by the FDA which provides systems that assure proper design, monitoring, and control of manufacturing processes and facilities. OpenDoors Nutrition only uses cGMP compliant facilities and also Daily Pro Blend 12B has been tested, for both the quality and CFU per serving, in two separate laboratories for quality assurance. With twelve billion CFU's (Colony Forming Units) per serving Daily Pro Blend 12B exceeds the adequate amount typically required by a healthy individual of five billion CFU. Additionally, people should only consider a probiotic supplement that is combined with a prebiotic to get a synbiotic effect.
OpenDoors Nutrition uses the prebiotics Sunfiber® and FOS (Fructooligosaccharide) which are both non-digestible carbohydrates that act as food for probiotics. The addition of these to a probiotic formulates a synergistic relationship, and this gives the supplement the live bacteria and fuel needed to thrive. Lastly, Daily Pro Blend 12B meets or exceeds all the recommendations required for a great supplement all while being free from wheat, eggs, yeast, soy, sugar, salt, animal derivatives, and malodextrin. It also contains no artificial preservatives or flavors, is gluten free, dairy free, is non-GMO sourced, and is Kosher. OpenDoors Nutrition provide as much information as possible about their supplements to help purchasers receive the best probiotic available.
To find out more information about Daily Pro Blend 12B and to buy it today at a discounted price visit their listing on Amazon here: http://www.amazon.com/gp/product/B00JZOQ3XA.
**These statements have not been evaluated by the Food and Drug Administration. This product is not intended to diagnose, treat, cure or prevent any disease.