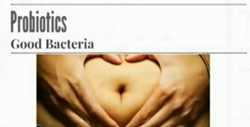 Boston, MA (PRWEB) May 01, 2014
HealthNutritionNews.org has released a video discussing how people who easily catch colds, have them two or more times a year, or want to take preventative steps for the next flu season can quickly and easily give their immune system a much needed boost. They explain how probiotics can strengthen the immune system and because the gut is filled with trillions of different types of bacteria, where eighty percent of the immune system resides, getting the correct ratio of good to bad bacteria is essential to boosting it. The video examines how people can actually stay healthy by putting the right types of bacteria into their bodies.
Health Nutrition News cites some research, including a study from Harvard Medical School, which describes the relationship between probiotics, "good" bacteria, and the immune system. One example is how researchers have found that specific strains of bacteria can influence the development of the immune system. These strains of probiotics can safely stay in the digestive tract and not only do they help with boosting the immune system but also probiotics can help with many other issues that stem from the gut.
The video discusses how probiotics are abundant in the body, with more than one hundred trillion living bacteria in each individual, and when the ratio of good bacteria to bad bacteria reaches levels of nine to one, it is harder for the bacteria that cause illness to develop. Some experts are recommending people increase their probiotic intake either through a strict diet, or more easily by a probiotic supplement for a minimum of two weeks to see if they notice a boost in their immune system and their overall intestinal health.
However, Health Nutrition News notes in the video that many probiotic immune system supplements are not adequate nor effective. In order to ensure the body gets the optimal immune system boost, it is important to look for specific strains of bacteria. More specifically, three bacteria strains Bacillus Subtilis, Lactobacillus salivarius, and Saccharomyces boulardii are very unique and provide a huge boost to the immune system. Additionally, consider probiotic supplements that contain the super nutrient Actazin, which can be found by clicking here, which acts as a prebiotic that considerably assists probiotics.
In the conclusion of the video, HealthNutritionNews.org reasons why probiotics have become a popular method of strengthening the immune system. Finding out how to boost the immune system people are realizing the good things that probiotics can do for the body and overall health.
Health Nutrition News has provided a free copy of The Top 10 Gut Cleansing Foods which provides readers with both a recommended probiotic supplement to use as an immune system booster and examples of probiotic rich foods that can also help with immunity. It is available for download here: http://healthnutritionnews.org/immune-system-boosters.