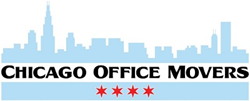 SCHAUMBURG, Ill. (PRWEB) January 29, 2019
Proceed Innovative, LLC, an internet marketing and SEO agency headquartered in Schaumburg, IL, recently moved to a new office space with help from Chicago Office Movers. In the last couple of years, Proceed Innovative has grown their business and added new members to their team, requiring them to move to a bigger office space. They worked with Chicago Office Movers, a trusted union moving company that specializes in office and commercial moves, to help them move to the new space which is also located in Schaumburg, IL.
Proceed Innovative has always been a small, family owned company dedicated to helping businesses across the country improve their online presence, brand awareness, and lead generation for a higher return on investment (ROI) from their website and social media profiles. As their client base grew, so did their staff, causing them to outgrow their previous office.
Once Proceed Innovative found a new office space, they worked with the moving professionals of Chicago Office Movers to assist with their move. These professional movers specialize in office and corporate relocation and helped Proceed Innovative by moving office furniture, important documents, and electronic equipment including computers and printers to the new space.
The ease of the move with Chicago Office Movers allowed Proceed Innovative to quickly settle into their new office and resume their business activities.
About Proceed Innovative
Proceed Innovative, LLC is a digital marketing agency that provides a range of search engine marketing (SEM) services including search engine optimization (SEO), local SEO, web design, pay per click (PPC) management, and lead generation. Their professionals work with their clients to understand their marketing goals and create a marketing program aimed at achieving these goals with measurable results. As a certified Google Partner, Proceed Innovative are experts when it comes to SEO and can use resources from Google to help improve the rankings and visibility of their clients in the search engine results pages (SERPs).
Call Proceed Innovative at 800-933-2402 or visit proceedinnovative.com to learn more.
About Chicago Office Movers
Chicago Office Movers is a commercial moving professional based in the Chicago, IL area that helps businesses of all types move to new locations and office spaces. Their moving professionals are members of the Teamsters Local 705 and they are ready to help with commercial moves including corporate and office relocations within the state of Illinois as well as long distance moves. Businesses can rely on Chicago Office movers for furniture moving and assembly, packing, crating, and storage. They are also licensed to move lab equipment and other important machinery.
Call Chicago Office Movers at 312-244-2246 or visit chicagoofficemovers.com for more information.