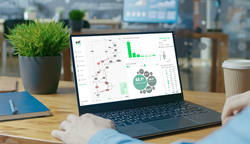 "Process Mining makes it really easy to quantify the results of your automation initiatives and thus ensures a successful transition to the era of 'hyper intelligent automation'" - Timo Nolle, CTO of PAF.
DARMSTADT, Germany and ANN ARBOR, Mich. (PRWEB) October 27, 2020
The Process Analytics Factory (PAF), leading vendor for Process Mining software in Power BI today announced a new PAFnow PREMIUM Edition for RPA (Robotic Process Automation). The specialized edition is designed specifically for organizations to scale RPA more effectively and is tailored to the specific needs of RPA centers of excellence teams. The PAF also offers an accompanying webinar on 12 November to introduce the new edition and show the key functions of the new RPA dashboards.
With the PAFnow PREMIUM Edition for RPA the PAF introduces the first of a series of specialized Process Mining solutions for specific business use cases.
"With our new PAFnow PREMIUM edition for RPA we tackle two problems with one solution," says Tobias Rother, Founder and CEO of PAF. "Fast RoI on RPA is difficult if organizations don't use bots on a large scale. Lots of organizations already have implemented bots through Proof of Concepts but they are getting frustrated and disillusioned quite fast, because scalability for RPA is difficult when you don't know your processes. At the same time the necessary process discovery via interviews, workshops and value stream mapping is time consuming and costly. Process Mining uses logfiles from operational applications such as ERP, CRM and Workflow to automatically visualize any end-to-end process in the fraction of a time and for much lower prices. Now, PAFnow offers a solution that helps users to understand, where to best start automating end-to-end processes and that specifically tackles common questions and problems of RPA projects."
The new RPA edition comes with prebuilt dashboards that help companies during all stages of their RPA projects from analyzing the processes to identify which ones are suited for automation, to keeping track of automation progress and impact. It helps users to better understand the ongoing business process and to identify the best opportunities for automation. Users can leverage those insights to drive impactful business outcomes and shorten time to embed bots effectively. PAF's new RPA Edition also provides a special highlight: a report page that interacts directly with Microsoft PowerApps and Microsoft Power Automate to trigger bots and automate workflow executions.
"Before automating business processes, organizations need to analyze operational data to find out, which business processes are best to start and which need improvement," explains Jason Wickman, EVP of North American operations. "Afterall, RPA is best at one thing - automating specific tasks within a process. If a process is broken, RPA alone will not fix it."
As all PAFnow versions, the new PAFnow PREMIUM Edition for RPA is embedded in Microsoft's Power Platform which allows users to automate and act on insights within their Office 365 infrastructure. Microsoft recently announced a new RPA desktop version of Power Automate and named PAF as one of the independent software vendors that are key partners in Microsoft's RPA business.
"Process Mining is essential to any enterprise automation project. To automate effectively, you need to find the best starting point, and Process Mining will help you do that. Even better, Process Mining makes it really easy to quantify the results of your automation initiatives and thus ensures a successful transition to the era of 'hyper intelligent automation'", says Timo Nolle, CTO of PAF.
The PAF will showcase the new PAFnow PREMIUM Edition for RPA in a live webinar on 12 November. To see the new dashboards and features in action and learn how organizations can scale all RPA projects interested parties should register in advance.
What is PAFnow?
PAFnow is a Process Mining Tool completely integrated in Microsoft Power BI and Microsoft Office 365 for the analysis, visualization and optimization of almost any process. This gives PAF a unique selling point and a competitive advantage: 97 percent of Fortune 500 companies already use Microsoft Power BI.