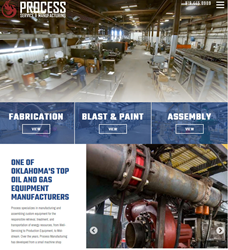 Spherexx has done an incredible job keeping up with our fast-paced growth. Chris Schutte, President
TULSA, Okla. (PRWEB) December 10, 2019
Process Service & Manufacturing is conducting some big business in West Tulsa with 150 employees across the 25-acre campus and 250,000 square feet of workspace. It is a full-service machine shop including high-tech robotic equipment along with complete fabrication, paint and assembly services.
Process was awarded the coveted DoD Status in August 2019, recognized by the United States' Department of Defense as a supplier of manufactured goods and services in support of US armed service members around the globe. President Chris Schutte, a veteran, was especially proud to add the US Government to their Oilfield, Production Equipment and Midstream Equipment services that clients have trusted for over forty-four years.
Clients and guests can view the grounds, shops, and equipment at their dynamic website developed by Tulsa's Spherexx.com®. In addition to designing and developing Process' website, they photographed the facility and filmed uniquely staged drone video of the exterior and interior facilities.
"Since we began working with the team at Spherexx, they have done an incredible job keeping up with, and showcasing, our fast-paced growth," said President Chris Schutte, "They custom designed a website that accurately depicts our brand, capabilities, and services with drone video, as well as greatly expanded our online presence with search engine optimization and their use of internet advertising with call-to-action landing pages. Spherexx has consistently delivered with innovative technology to handle the challenges that are unique to our business. We are truly excited to be working with their team and expect nothing less than a great future together."
Process is hiring welders, fitters, diesel mechanics, electrical technicians and assembly technicians to meet their increasing expansion. Visit Process Careers for employment opportunities with an established, expanding manufacturing giant in Green Country.
ABOUT PROCESS SERVICE & MANUFACTURING
Founded in 1975 by Mr. Frank Chrisco, Process Manufacturing Company (Process) was a small machine shop consisting of just 4 employees in a 3,000 square foot facility in Tulsa, Oklahoma. Since those humble beginnings, Process has grown into a trusted, complete fabrication, paint, and assembly company with over 150 employees and growing.
Over the years, Process has established its reputation as a Tier 1 manufacturer and remanufacturer of oilfield pressure pumping and mixing equipment for the world's largest Well Servicing company. As a result of this long and storied history, Process holds a distinguished pedigree in North America as one of only a handful of true, vertically integrated, well-servicing equipment OEM's.
Purchased in October 2017, by Chris Schutte of JCS6 Holdings, Process Manufacturing has continued its dedication to Customer Service, Quality, and Value. Since acquisition, Process has opened its doors to many Customers in the Oil & Gas Production Equipment and Mid-Stream markets, further demonstrating its capabilities to service the demands of a much broader, quality intensive customer base.
Capabilities are vast and include a full-service machine shop, high-definition laser and plasma tables, press brake, MIG and SMAW coupled with robotic manipulators and pinwheels, over 85 MIG and TIG machines, two blast and paint facilities, and state-of-the-art final assembly capabilities for electrical, pneumatic, mechanical, and hydraulic assembly.
In short, Process Manufacturing has almost half-a-century of experience in turning raw steel into high-end, customer specific equipment, with exceptional craftsmanship and unparalleled Customer Service.
ABOUT SPHEREXX.COM® FULL CIRCLE SOLUTIONS
Spherexx.com® is an advertising agency, software developer and business intelligence provider that has served multiple industries across the US since 2000. An INC5000 company, it is the largest web development company in Tulsa, OK and has offices in Dallas TX, providing cloud-based marketing technology to meet the demand for results-driven website design, touchscreen kiosks, and software solutions. Spherexx.com offers a wide selection of professional services including Internet lead generation tools, online advertising, consulting, advanced mobile technology, apartment leasing and lease-up marketing, and search engine performance. The company provides branding services, video/multimedia production, hosting, database solutions, pay per click, e-commerce, print media, and custom programming. Spherexx has also developed multiple CRM, revenue management, and management tools that empower clients to expand business and grow revenue.