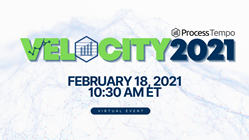 "Leading organizations in every industry are learning how to harness the technological and cultural power of data and analytics - this is what creates velocity. They're understanding what it takes to wield data & analytics as a competitive weapon, a key theme for this year's conference."
NEW YORK (PRWEB) January 26, 2021
Process Tempo Inc. announces the agenda for the upcoming virtual Process Tempo Annual VELOCITY Conference, to be held on February 18th, 2021. For more details about the speakers, sessions, and registration options, visit https://www.processtempo.com/velocity-2021 or visit the LinkedIn event page.
The event will feature keynote presentations, panel discussions, and workshops on how to enable data-driven transformation through a combination of technology and expert know-how.
Topics include:

Augmented Analytics: Growth, Trends, Impact & Forecasts
How to Build a Data-Driven Culture
Making Data Democratization a Reality
Fueling Growth through Data Monetization
Process Tempo's Managed Analytics as a Service (MAaaS)
"We are extremely excited about the content we are putting together for this year's conference. Leading organizations in every industry are learning how to harness the technological and cultural power of data and analytics - this is what creates velocity," says Phil Meredith, CEO & Founder of Process Tempo. "They're understanding what it takes to wield data & analytics as a competitive weapon, a key theme for this year's conference."
The scale and complexity of becoming data-driven opens up a great deal of risk for organizations. This risk is demonstrated primarily through investments that don't always help to close the data-driven gap. Velocity 2021 aims to showcase best practices, highlight must-have technologies, and provide data and analytics leaders the insights they need to reduce this risk and to stay ahead of the competition.
Along with providing industry insights and predictions, the conference will also unveil Process Tempo's newest updates to their flagship platform. The agenda includes highlighting breakthrough capabilities such as the all-new Dashboard Builder and the new interactive Data Explorer.
"When a dashboard is properly framed and aligned to strategic priorities, it can provide an invaluable window into business performance," says Meredith. "By placing the ability to build such dashboards into the hands of non-IT and non-technical employees, it paves the way for the most relevant and essential information to emerge each time to improve overall decision-making."
Join the discussion on social media using #Velocity2021.
For media inquiries, please contact Daria Chadwick at daria.chadwick@processtempo.com.
ABOUT
Process Tempo is a hybrid cloud, data management & analytics platform that breaks down silos to allow people, processes, and technologies to seamlessly work together. The platform is designed to augment, or layer over, an organization's existing capabilities by supporting a secure, governed, scalable, and high-performance environment for analysts and data scientists, while serving as the foundation to deliver insights to all employees. It easily incorporates a semantic layer to curate and recommend information from across the organization, and makes every employee a first-class citizen in contributing insights and feedback to make the organization smarter over time. Process Tempo Inc. also offers Managed Analytics as a Service expertly designed to reduce the cost & complexity of internal systems and enable intelligent and profitable decision-making for organizations across the board.
Website: processtempo.com
LinkedIn: linkedin.com/company/processtempo
Twitter: @processtempo
Instagram: @processtempo
Facebook: facebook.com/processtempo