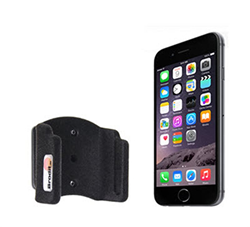 Madison, WI (PRWEB) September 19, 2014
Mobile mounting solution and accessory distributor, ProClip USA, will carry new iPhone 6 and 6 Plus car mounts. Phone holders are available for pre-order from ProClip's website as of September 18th.
ProClip USA has been making iPhone specific car mounts for Apple products since the first iPhone was released in 2007. This year's iPhone release includes two new phones, the iPhone 6 and 6 Plus. ProClip will sell holders specifically designed to fit each phone.
Production of ProClip iPhone holders will begin when ProClip receives the new iPhones on September 19th. The holders will be available about two weeks later, with some select holders beginning to ship October 1st. Until then, ProClip is offering pre-orders for the iPhone 6 holders and iPhone 6 Plus holders on their website.
ProClip USA will release a few different types of holders for each iPhone, including a standard padded holder, charging USB holder with cigarette plug adapter, fixed install hard-wire holder and adjustable charging holders.
For those who would like a universal mounting solution for their iPhone, with or without a case, ProClip USA also offer a magnetic car phone mount called the iOauto Pro. The iOauto Pro comes in six color options and is compatible with most phones and cases.
Pre-order your new iPhone car mount now and look for final product from ProClip USA in the next couple weeks.
About ProClip USA
ProClip USA, Inc. is the exclusive North American distributor of ProClip retail, enterprise and in-vehicle mobile mounting solutions and accessories manufactured by Brodit AB. ProClip products are custom fit for virtually every vehicle model and handheld device available such as cell phones, tablets, MP3 players, navigation systems, satellite radios, two-way radios, barcode scanners and mobile computing.
Their secure and easy-to-install mounting solutions provide more enjoyable and safer driving experiences while keeping devices charged and within easy reach. To learn more, visit ProClipUSA.com.