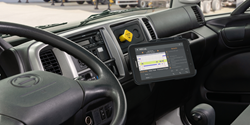 MADISON, Wis. (PRWEB) March 11, 2020
ProClip USA Inc., and Otter Products have partnered to offer rugged mounts compatible with the OtterBox uniVERSE Case System. Partners in the mobile accessory marketplace, the ProClip and OtterBox collaboration will expand mobile capabilities in OEM verticals from transportation and manufacturing to warehouse and educational settings. Complete ELD and forklift kits compatible with the uniVERSE Case System will be offered for all devices covered by the OtterBox uniVERSE case line.
"We're excited to partner with ProClip to offer their custom mounting solutions made specific for the OtterBox uniVERSE Case System," said Ronan LePoupon, Vice President, Commercial and B2B Division at Otter Products. "OtterBox and ProClip are making it easier for any customer to expand their universe. End-users can maximize their mobile experience by leveraging uniVERSE and ProClip connectivity and attaching powerful accessories like a credit card reader or external battery."
The OtterBox uniVERSE Case System is rigorously tested to protect any device from drops and ProClip mounts are made in Sweden from high-grade ABS and acetal polymers. This dynamic combination of quality mobile accessories, considered the most durable in the industry, are built to last in the most demanding environments. With 24+ tests and 238+ hours of testing, the uniVERSE Case System protects any device from drops, bumps and fumbles.

"Modular and interchangeable, ProClip mounts for OtterBox complement any device rollout," stated Don Rankin, COO/CMO ProClip USA. "Easily swap any tablet or smartphone protected by a uniVERSE case onto the ProClip mounting solution. ProClip will begin offering complete kits featuring uniVERSE cases, custom vehicle, forklift, warehouse mounting solutions immediately."
Browse ProClip mounting solutions for a wide range of OtterBox cases here.
ProClip can facilitate bulk orders with short lead time to deliver the parts needed to make your business successful and more efficient. Contact a ProClip sales representative at 1-800-296-3212 or enterprisesales@proclipusa.com or submit your detailed product request.
About ProClip USA
ProClip is a leading supplier of enterprise mobile device mounting solutions for phones, tablets, mobile computers, scanners and mobile printers and is the exclusive distributor of ProClip products in North America. ProClip has deployed hundreds of thousands of mounting solutions for industry leading devices from manufacturers like Apple, Samsung, Zebra, Panasonic, Honeywell, and more. ProClip USA services many different industries from fleet and delivery services to warehousing, waste disposal, military, police and healthcare. For more information, visit http://www.proclipusa.com. Follow on LinkedIn, Facebook and Instagram.
About OtterBox
Starting with something as simple as a box, OtterBox® was founded in 1998 with a line of indestructible dryboxes. Today, OtterBox is the No. 1-selling case for smartphones*** and offers an extensive lineup of premium screen protectors and other device-enhancing accessories that complement various consumer lifestyles. OtterBox's strong relationships with the leading mobile device manufacturers, retailers and wireless services providers delivers unrivaled value, world-class customer service and a continued commitment to premium product quality. OtterBox has been a five-time honoree on the Inc. 5000 ranking of fastest growing private companies in the U.S., recognized by Forbes Magazine on "America's Most Promising Companies" and is a repeat honoree in the Great Place to Work® annual survey published by FORTUNE Magazine. The family-owned, private company has global headquarters in Fort Collins, Colo. and offices in Boston, San Diego, Cork, Ireland and Hong Kong. For more information, visit otterbox.com. We've Got Technology Covered.