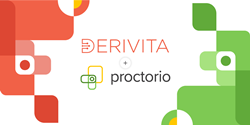 SCOTTSDALE, Calif. (PRWEB) November 03, 2020
Proctorio, leading remote proctoring and test security solution, and Derivita, a first of its kind STEM assessment platform, have partnered to provide educators with the test security tools they need to ensure academic integrity in hybrid and online classes. Educators in high schools, colleges, and universities can now enable Proctorio Lock Down settings on any Derivita assignment, quiz, or exam at no additional cost.

"The coronavirus pandemic changed nearly every aspect of modern life overnight, and education is no exception," says Derivita Founder and CEO, Devlin Daley. "Through our partnership with Proctorio, we're working to help high school districts, colleges, and universities meet these challenges head on. Our aim is to provide educators with the tools they need to deliver an effective and secure online teaching and learning experience."

Proctorio and Derivita first announced their partnership in August when Proctorio's remote proctoring platform was fully integrated with Derivita's cloud-based STEM assessment platform. This integration enabled educators to administer online assignments, quizzes, and exams, with Proctorio's exam security and remote proctoring, on Derivita's proprietary platform to students across the globe.

Now, all Derivita educators can enable Proctorio Lock Down settings on any Derivita assignment, quiz, or test directly from their LMS course. These settings can be easily customized based on the assignment and the needs of the course. Educators can secure their course content, prevent printing or sharing, restrict internet navigation, and prevent the use of external resources.
With the rapid transition to online teaching and learning in March, Proctorio usage has skyrocketed to proctoring to 2.5 million exams each month at over 1,000 educational institutions worldwide. Proctorio proudly supports an uptime of 99.99% and an average support chat response time of 7.9 seconds.

"In the past, subject matter for remotely proctored exams has been limited since STEM courses often require specific tools and platforms to accurately assess a student's knowledge," says Proctorio Founder and CEO, Mike Olsen. "Through our partnership with Derivita, our aim is to provide more students with an opportunity to study and learn remotely, and expand the subject areas in which Proctorio's platform can be used. We want students in high schools, colleges, and universities to be able to take STEM courses with the highest level of academic integrity regardless of whether they are online or in-person."

About Derivita
Created by the co-founder of the Canvas LMS, Devlin Daley and former Googler, Ryan Brown, Derivita is a first of its kind math platform with a proprietary computer algebra system. Built for educators, Derivita provides an immense library of STEM questions and question types. Instructors can create homework assignments, quizzes, and exams in minutes and instantly add them to their course. Student submissions are auto-graded and students are provided with immediate, meaningful feedback. Derivita can be used with any textbook or open educational resource, seamlessly integrates with any LMS, and is used by educational institutions across the country.
Click here to learn more about Derivita's STEM Technology Platform.

About Proctorio
Proctorio's Learning Integrity Platform is a live and fully automated remote proctoring service that provides a scalable, secure, and cost-effective solution to validating test taker identities and activity during online exams. Proctorio ensures the integrity and value of distance learning programs, online certifications and degrees, and the accreditation of their partnered institutions.

Proctorio's customizable and secure exam settings, recording and ID verification options allow institutions to set up unscheduled, on-demand proctoring specific to their assessment needs. Proctorio ensures test taker equity in digital learning environments by increasing accountability, securing exam content, deterring cheating, and promoting a culture of integrity and individual privacy. Click here to learn more about Proctorio's Learning Integrity Platform.