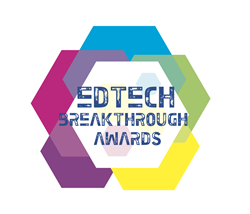 At Proctorio, we are fully committed to increasing access to quality education, and with our team of instructional designers, lifelong learners, and former faculty members that lead our company and develop our products, we are well-positioned to deliver on that commitment
LOS ANGELES (PRWEB) June 25, 2020
EdTech Breakthrough, a leading market intelligence organization that recognizes the top companies and solutions in the global educational technology market, today announced that Proctorio, a market leader in fully-automated AI remote proctoring solutions, has been selected as the winner of its "Online Proctoring Solution of the Year" award in the second annual EdTech Breakthrough Awards program.
Proctorio is a highly-scalable remote proctoring solution designed to protect integrity and student privacy at each layer of the platform. Proctorio's Learning Integrity Platform works with all learning management systems and can be custom fit to work on any test delivery platform. With this seamless integration, there are no additional logins to remember and test taker data stays with the testing institution and not Proctorio.
Serving over 6 million exams since the start of the spring semester, Proctorio has been able to successfully scale to support exponential growth during the Coronavirus pandemic. The platform can be found in the digital classrooms of over 811 institutions across the globe.
Earlier this month, the District Court in Amsterdam ruled in favor of the University of Amsterdam (UvA) administering all proctored exams and quizzes to their students remotely through Proctorio's learning integrity platform. This case was brought to Court by the Central Student Council of UvA, arguing that UvA students should have the right to refuse using Proctorio during online exams. The Court's decision was a win for Proctorio's industry-leading approach to test taker privacy and set a precedent for remote proctoring software that is both privacy centric and GDPR compliant.
Proctorio is the only privacy-centric remote proctoring solution on the market. Although both GDPR compliant, other remote proctoring solutions like ProctorU and Examity may utilize third-party programs to monitor their exams, collect biometric data, and sell or share exam-related data. Proctorio is the only proctoring solution that uses zero-knowledge encryption to deny access to individuals or parties from outside of the institution to protect student privacy.
"Proctorio is pioneering a new category around learning integrity that goes beyond traditional online proctoring solutions with impressive "breakthrough" technology and end-to-end data security that ensures learning integrity," said James Johnson, managing director, EdTech Breakthrough. "As remote education continues its exponential adoption, Proctorio's focus on academic integrity will be critically important in order to securely deliver high-quality learning to more people than ever before. We are thrilled to name Proctorio a 2020 EdTech Breakthrough Award winner and look forward to further advancements from them in the EdTech space."
The mission of the EdTech Breakthrough Awards is to honor excellence and recognize the innovation, hard work, and success in a range of educational technology categories, including Student Engagement, School Administration, Adaptive Learning, STEM Education, e-Learning, Career Preparation, and many more. This year's program attracted more than 1,750 nominations from over 15 different countries throughout the world.
"At Proctorio, we are fully committed to increasing access to quality education, and with our team of instructional designers, lifelong learners, and former faculty members that lead our company and develop our products, we are well-positioned to deliver on that commitment," said Mike Olsen, Founder & CEO of Proctorio. "We understand academic integrity and are working every day to expand educational opportunities throughout the world. This 2020 EdTech Breakthrough Award is a strong validation of the success and we are proud to receive this industry recognition."
The Proctorio platform is the first and only of its kind to utilize zero-knowledge encryption to protect student privacy. This unique encryption scheme means that all data is protected in transit and at rest, and no one - other than approved individuals at the student's institution - is able to access it. Proctorio also uses a privacy-by-design approach to data security. The platform ensures end-to-end learning integrity before, after, and during the exam, along with instantaneous results for the instructor to review. By automating proctoring and originality verification, Proctorio ensures the integrity and value of distance learning and online certifications and degrees.
About EdTech Breakthrough
Part of Tech Breakthrough, a leading market intelligence and recognition platform for global technology innovation and leadership, the EdTech Breakthrough Awards program is devoted to honoring excellence in educational technology products, companies and people. The EdTech Breakthrough Awards provide a platform for public recognition around the achievements of breakthrough educational technology in categories including e-learning, student engagement, school administration, career preparation, language learning, STEM and more. For more information, visit EdTechBreakthrough.com.
About Proctorio
Proctorio's Learning Integrity Platform is a live & fully automated, remote proctoring service that provides a scalable, cost-effective solution to validating test-taker identities, activity and originality during online exams. Proctorio ensures the integrity of distance learning and online certifications while protecting institutional accreditation, increasing the value of online degrees & credentials, and helping institutions grow their programs.
Proctorio's customizable, secure exam settings, recording options and live ID verification allow institutions to set-up unscheduled, on-demand proctoring specific to their assessment needs. Proctorio ensures fairness for test-takers by increasing accountability, securing exam content, deterring cheating, and promoting a culture of integrity while improving learning outcomes.