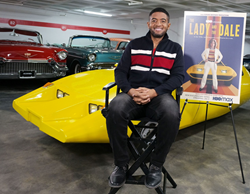 "As a filmmaker, I am always drawn to stories with compelling characters," says Gaines. "There are universal themes in The Lady and the Dale that people can relate to regardless of color, gender, and socioeconomic status."
HOLLYWOOD, Calif. (PRWEB) February 05, 2021
When independent producers Andre Gaines and Allen Bain got an email from then screenwriter Nick Cammilleri about a project called "The Lady and The Dale," following the rise and fall of 1970's transgender entrepreneur Elizabeth Carmichael and her radical fuel-efficient, three-wheeled car known as The Dale, they knew it was the type of project they had to get their hands on.
"It is the only unsolicited inquiry that either of us have ever responded to," says Gaines. "I have always loved true crime. Next to sci-fi, and biographical, it's my favorite genre. Liz Carmichael's story was incredible -- we were hooked from the very beginning, and so was everyone on our team."
The three developed the project for more than a year-and-a-half before sharing it with Emmy®-winning producers of HBO's "Room 104" and Amazon's "Transparent," Mark and Jay Duplass who are repped at the same agency as Gaines. Within days, the Duplass brothers were in, and together, the team pitched the four-part documentary series to HBO, who bought it within weeks. "The Lady and The Dale" is a probing exploration of family and identity seen through the lens of a fearless and wily innovator, an extraordinarily resilient woman, and a dedicated parent. The story is told using archival material with photo collages and animation to illustrate Carmichael's experiences.
"Animation was an important part of my early career, and I knew it could work here in a unique way," says Gaines, who started Cinemation Studios in 2010 as an animation and visual effects house. "Documentaries often use re-enactments to help tell the story, but with The Lady and the Dale, animation just made sense."
HBO describes the series as a riveting, human portrait of an imperfect trailblazer, an industrious businesswoman, and a beloved mother whose ambition and unwavering optimism ran headlong into widespread transphobia and media bias. Ahead of her time, forced to operate in an unaccommodating world, Liz Carmichael stands as a heroic figure of resilience and as a symbol of untrammeled enterprise and survival.
"As a filmmaker, I am always drawn to stories with compelling characters," says Gaines. "There are universal themes in 'The Lady and the Dale' that people can relate to regardless of color, gender, and socioeconomic status."
Like Carmichael, Gaines is a firm believer in charting his own destiny. A native of Toledo, Ohio, his Hollywood journey began working for former Universal Studios President Kevin Misher, and later for Producer Doug Wick at Sony. "Both Kevin and Doug taught me not to 'play the market,' meaning don't try to copy what's out there," Gaines recalls. "They also said, 'don't be so niche that your material will go over people's heads.'" He also learned how to pick winners from British independent film producer Cassian Elwes, a long-time friend and frequent collaborator, but credits his parents, Jimmy and Sharon Gaines, with teaching him about finance early.
"My parents taught me about money when I was just a kid, and I figured out very early in this business that if you don't control the money, you don't control the narrative," says Gaines. "People say never use your own money. I have always said the opposite."
While at New York University's Tisch School of the Arts, Gaines began writing and producing animation, then later producing live-action foreign films and U.S. remakes with STUDIOCANAL. Over the course of his 15-year Hollywood career, Gaines has financed and produced over twelve documentary and narrative feature films including Spike Lee's "Da Sweet Blood of Jesus," "Ladder to Damascus," Emmy-winner "By the People: The Election of Barack Obama," Oscar-nominee "Embrace the Serpent," and SXSW winner "Bill Nye: Science Guy" on Netflix. "Brazilian Western," "The Immortal Warrior," "Bricks in Motion," and "The Purple Onion" were four films Gaines co-financed and produced with first-time filmmakers in the director's chair.
Gaines recently wrapped production on the reboot of Stephen King's "Children of the Corn," one of the first films to shoot during the early months of the pandemic in 2020. In addition, Gaines is producing "Buzzed" directed by Marc Forster, about famed astronaut Buzz Aldrin whose life took a turn for the worse after landing on the moon, and "Killing Gawker" directed by Seth Gordon, a collaborator with Gaines on "Bill Nye: Science Guy," about the raucous trial of Hulk Hogan versus the defunct tabloid news site Gawker.com. He re-teams with his "The Lady and the Dale" partner Allen Bain and Blumhouse TV on another upcoming documentary series "Stateless," about a group of bitcoin anarchists who attempt to build a society free of government rule in the Caribbean.
Gaines is also in the final stages of a project he financed, wrote, and directed – the highly anticipated documentary feature film about legendary comedian and activist Dick Gregory. The journey has been a special one for Gaines.
"I cold-called Mr. Gregory in 2015 and pitched the idea to start filming him. He was in," says Gaines. "It has been a six-year labor of love to bring the story of this extraordinary comedian, activist, cultural, and entertainment icon to the screen, and I cannot wait for people to see it."
Gaines says his time with Dick Gregory, who died in 2017, was a 'period of enlightenment' for him that redirected a path for his life and career in ways he could not have imagined.
"I've been blessed with an incredible career, filled with wonderful mentors, awesome friends, and supportive family," says Gaines. "My mission now is to pay it forward and help other filmmakers achieve their dreams while continuing to make meaningful and transformative art."
"The Lady and The Dale" debuted to rave reviews with two back-to-back episodes on HBO on Sunday, January 31 at 9 p.m. ET/PT, with new episodes premiering weekly through the finale on Feb. 14. "The Lady And The Dale" is also available to stream on HBO Max.
For additional assets, please click here.
About Cinemation Studios:
Cinemation Studios is the film and television production company founded by Andre Gaines that finances and produces motion picture and television content abroad and for US audiences. Current projects include Stephen King's Children of the Corn, Buzzed directed by Marc Forster, Killing Gawker written by Charles Randolph and directed by Seth Gordon, Timecrimes written and directed by Steve Zaillian, and The Lady and the Dale on HBO. For more information, visit cinemation.net.