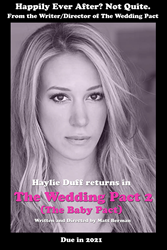 HOLLYWOOD, Calif. (PRWEB) May 12, 2021
Production on "The Wedding Pact 2 (The Baby Pact)," starring Haylie Duff, Leslie Easterbrook, Scott Michael Campbell, Eric Scott Woods and Kelly Perine began on Thursday May 6, 2021, in and around Los Angeles and Orange County. These original castmates are reuniting for the highly anticipated sequel of 2014's "The Wedding Pact."
Three years after Mitch and Elizabeth (Haylie Duff) got married at the end of The Wedding Pact, much has changed. A month after celebrating Elizabeth's pregnancy Mitch unexpectedly passes away. With nothing to keep her in Boston and needing a fresh start, Elizabeth's sister Rachel (Heather McComb) arrives to help her pack and move in with her and her Mother (Leslie Easterbrook) now located in Ft. Wayne, Indiana, their hometown. Soon after Elizabeth runs into an old high school friend Joe Morris Jr.(Quinton Aaron) who runs a flower shop with his father. Noticing a help wanted sign she gets hired on the spot. One day Elizabeth is greeted by Mitch's mother Jennifer Becker (Chase Masterson). She informs Elizabeth she received a letter in the mail and in it was a plea from Mitch that if anything ever happened to him to not let Elizabeth raise the child alone as he did not think she would be a suitable single parent. Jennifer then informs Elizabeth she has hired an attorney (Gail O'Grady) and taking her to court seeking full custody once the baby is born. Vowing to fight this, Elizabeth hires her own attorney (Connor Trinneer) to make sure that never happens. Kevin Farley and Richard Riehle also star in the film.
"The Wedding Pact 2 (The Baby Pact)," examines what happens when happily ever after doesn't quite turn out that way. Newly pregnant Elizabeth has to deal with the sudden passing of her husband and start a new life back in her hometown. Soon her mother in-law arrives seeking custody of her baby believing it's what her son wanted.
Michael Gouloff will serve as executive producer and Damian King and Jack Serino are producers. The film is written and directed by Matt Berman ("Manipulated," "Hollywood & Wine"), who also wrote and directed the original film "The Wedding Pact." Sevendust lead singer Lajon Witherspoon will write and perform the title song to the film. "The Wedding Pact 2 (The Baby Pact)," is a Fantasy Forge Films Production.
SFO Entertainment represents the film domestically and Blairwood Entertainment represents the film internationally.
For more information, please follow @theweddingpact2 on Instagram.