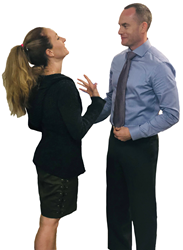 "If you are married to your business partner, the day to day responsibilities are even more challenging. Achieving the right balance between personal life and business priorities can be daunting."
COLUMBIA, Md. (PRWEB) April 06, 2019
Owning and running a small business isn't easy, according to certified professional business coaches Mick and Tara Carbo, owners of Carbo Coaching in Columbia, Maryland. "If you are married to your business partner, the day to day responsibilities are even more challenging," Mick adds. "Achieving the right balance between personal life and business priorities can be daunting."
Mick and Tara know this well. Twenty years of marriage, raising three teenagers and running four successful small businesses has taught them well and provided them with a blueprint for how to succeed as a CouplePreneur. That's why they have decided to share this knowledge, along with their business coaching expertise, in an 8 hour business workshop designed specifically for married couples in business.
The workshop will be held on Saturday, April 27, from 10 am to 6 pm at the Turf Valley Resort in Ellicott City, Maryland. Registration details can be found on the web at bizcouplescoaching.com.
"We're a couple who comes together in love and partnership and perseveres through all the hardships and obstacles we face to create success as both a couple and as business partners," Mick says.
"We play hard, we fight hard, and we work hard," Tara explains, noting that their success in business "is all about learning the tools of how to work together, and use our love for each other to drive our success."
"As a couple, we have some advantages that a traditional business partnership lacks," she adds. "In this workshop we are going to help couples explore the unique power found only in a couples in business partnership."
Here is what couples will learn in this one-day workshop:
CouplePreneurs wear many hats - husband & wife, mom & dad, friend & friend, business partnership, colleagues, trainer & trainee. Often each partner possesses unique talents the other doesn't have. Workshop attendees will learn how to effectively manage all the different relationships they have with each other and leverage them to create greater business success.
CouplePreneurs often have the same vision for their business but have completely different ideas about how to get there. This workshop will teach business couples how to operate effectively even if they don't necessarily agree with each other.
One partner can feel misunderstood, not heard or seen fully by their partner. Still, they must go to work together to run their business. This workshop teaches couples how to manage conflict and still be effective while working together.