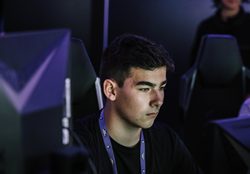 "Stonie's an incredibly talented player with an even greater commitment to improving, so I'm eager to follow his performance in the coming months." - Jordan Zietz, owner, All-Star eSports
LAKEMOOR, Ill. (PRWEB) August 03, 2020
Ryan "Stonie" Meyer, 19-year-old professional Fortnite player from Lakemoor, Illinois, has just signed with the North American gaming organization All-Star eSports. The 9-month guaranteed contract pulls Stonie out of his short period in the free agency after choosing to seek out more appealing options outside of his prior team, Pyronic.
When asked on his decision to sign, Stonie responded by saying, "I'm excited to be getting involved with All-Star eSports because it gives me the chance to show off what I'm capable of in the competitive scene and, most importantly, continue making a lot of noise in the Fortnite world."
Stonie has had an eventful eSports career thus far, having qualified and placed in the Season 2 Fortnite Champion Series Finals in April 2020, the largest tournament of the season. Additionally, Stonie has shown strong performance in tournaments since the start of his career, placing within the top one-hundred players in the North America eastern region during Fornite's 2019 "Winter Royale" and placed in the top 0.1% in the 2019 World Cup Qualifiers, beating out millions of other players.
Jordan Zietz, the owner of All-Star eSports, is just as excited to be onboarding Stonie to the organization. "When the All-Star eSports team starts talking about a player, that's about as good an indicator as any that there's a real talent. Stonie's an incredibly talented player with an even greater commitment to improving, so I'm eager to follow his performance in the coming months."
Considering his elite performance over the past year, it is definitely worth following Stonie's competitive career success and growth with All-Star eSports over the next few months.