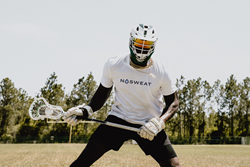 "NoSweat allows you to perform to the best of your abilities without being slowed down by the inevitable. Don't sweat it, let's get it!"-Myles Jones
MINNEAPOLIS (PRWEB) June 08, 2021
To pull off a smooth fast break or to score the perfect goal requires lacrosse players' full attention. One drop of sweat in the eye or beads of it rolling down the face can be distracting and throw even a professional off their game. That is why professional lacrosse player Myles Jones has been named as a new brand ambassador for NoSweat, a Minneapolis-based company that creates patented sweat-absorbing headwear liners. Jones, who uses the liners during games and practices as well as off the field, will be raising awareness of the benefits the liners provide by engaging his audience as well as working with the NoSweat team to provide lacrosse-related content via NoSweat's website and social media channels to help activate the company's growing presence in the lacrosse industry.
"Sweating has always been a big part of my life growing up playing sports," said Myles Jones. "Being able to control that while competing at the highest level is essential to my performance. That's why I stand behind NoSweat and the products that they've created for athletes and everyday life activities. NoSweat allows you to perform to the best of your abilities without being slowed down by the inevitable. Don't sweat it, let's get it," said Jones.
Myles Jones is a midfielder for the Premier Lacrosse League's Redwoods Lacrosse Club and a former number one draft pick. He attended and played for Duke and while there he was a three time All-American, a two-time Don MacLaughlin Award winner and a two-time Tewaaraton Award Finalist. Additionally, he was named the 2016 Atlantic Coast Conference (ACC) Offensive Player of the Year and was one of 11 Blue Devils to earn All-ACC honors three times in their careers. Jones was also selected to play in the 2019 Premier Lacrosse League's All-Star Game.
"The NoSweat team is excited to welcome Myles on board as our newest brand ambassador," said David Holt, CEO of NoSweat. "We look forward to creating fun, engaging content with him to help expand the brand's reach in the lacrosse community as well as spreading awareness of the benefits the liners provide athletes whether it's on or off the field."
Use code STOPSWEAT for 20% off your order on http://www.nosweatco.com. For wholesale pricing please contact: info@nosweatco.com.
About NoSweat
NoSweat is a lifestyle brand and manufacturer of products that are 100% USA made and built to increase performance, safety and hygiene for anyone who sweats and wears some type of hat, helmet, visor, face shield or hard-hat. NoSweat's goal is to provide innovative products that improve how people work, play and live. Founded in 2008 and based out of Minneapolis, NoSweat offers a growing, patented line of sweat-absorbing solutions that are unique to the sports, medical, construction, industrial, food prep, military, and municipal spaces. Learn more about NoSweat at: https://nosweatco.com/.