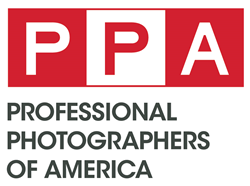 ATLANTA (PRWEB) November 07, 2019
Beginning in 2020, Professional Photographers of America (PPA) will have two new members on its board of directors, photographers Makayla Harris and George Joell. The inclusion of Harris and Joell comes at a time of change for the organization, as it seeks to diversify its board along the lines of age, race, and photographic specialty. The board of directors—all PPA members themselves—will shape the vision for the association until March 2021.
Makayla Harris is an acclaimed wedding photographer from Saratoga Springs, New York. She's also a print influencer and member of the Printographers Society who will be speaking at Imaging USA 2020 in January.
"I am honored and humbled to be appointed to the Board of Directors for the Professional Photographers of America and eager to bring a fresh perspective to the current board!" Harris says. "I look forward to representing rising photographers in our evolving field, especially in the wedding industry."
Harris is something of an unexpected addition to the board, finishing a term for another member who unexpectedly had to resign due to family reasons. Harris has a similar wedding-photographer background and will finish out the term through next year, helping PPA continue to focus on its new Wedding Photography degree and competition category.
"We are delighted to welcome Makayla Jade Harris as a new Board of Director," stays Audrey Wancket, PPA President. "Makayla brings a wide range of qualities to the PPA board including a background in business and marketing prior to her 7 years as a professional photographer. Her passion for educating photographers on the importance and value of printed photographic products, branding, and building a successful profitable business will have a meaningful impact as part of our Board."
George Joell is an acclaimed Photographic Craftsman specializing in wedding and portrait photography in Fayetteville, North Carolina. He's a retired army first sergeant who brings a wealth of experience to the board, beginning his full two-year term in March 2020.
"We are pleased to welcome George Joell III to the PPA Board," Wancket says. "As a leader in his area and with his background, not only as an army veteran who served 24 years but as a working, successful photographer for over 18 years, George brings a wide range of relevant experience and expertise. Our PPA Board, PPA Staff and all of our members will benefit from the unique perspectives he offers and the enthusiasm he brings to our association."
Joell says, "I am excited to be appointed to the Board of Directors of PPA. It is truly an honor to serve the membership of the greatest association for professional photographers. I am looking forward to working with the Board of Directors and committee members to bring a more diverse and inclusive culture to the organization. It is my goal to work with photographers and industry professionals around the country, to make every person feel that the PPA is their organization, and they are valued. I fully embrace this task and am ready to work hard. I am prepared to make tough decisions. Once again, I am excited and happy to be on board."
PPA is a nonprofit association and the board is an essential component of that designation, taking an active role in its legal and financial responsibilities, visioning and policy. Each member of the PPA board is an active, professional photographer and brings a unique set of skills and talents to the table, aiding PPA to carry out its mission. Each board member can serve up to three two-year terms and becomes eligible to run for the executive board after completing their first term.
About PPA:
Professional Photographers of America (PPA) is the largest and longest-standing nonprofit photography trade association. Founded in 1868, PPA currently helps 30,000+ pros elevate their craft and grow their business with resources and education, all under PPA's core guiding principle of bridging the gap between photographers and consumers.