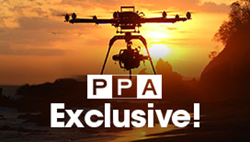 Drone Pilot Ground School is excited to reach 30,000+ photographers through this partnership with the PPA community
ATLANTA (PRWEB) September 24, 2018
Drone Pilot Ground School has partnered with Professional Photographers of America (PPA) to offer their members a discount on enrollment. Drone Pilot Ground School is an online test prep course for commercial drone pilots looking to pass the FAA Aeronautical Knowledge Test for a Remote Pilot Certificate. Drone Pilot Ground School is a training course managed by UAV Coach, the largest and most reputable online-based drone training academy in the sUAS industry.
Through this exclusive partnership, photographers who are members of PPA can take $50 off the price of the course. Members are given a discount code they enter at checkout on http://www.dronepilotgroundschool.com
"PPA is excited to bring this discount to our members through our exclusive partnership with Drone Pilot Ground School," says Julia Boyd, CAE, Director of Certification at PPA. "As the world's largest non-profit photography association, PPA's mission of creating a vibrant community of successful professional photographers by providing education, resources and industry standards of excellence is enhanced with drone education. We are eager for our members to pass their FAA tests and continue to raise the bar in the photographic industry."
"One of the top commercial applications of sUAS / drone technology is aerial photography. Drone Pilot Ground School is excited to reach 30,000+ photographers through this partnership with the PPA community," says Alan Perlman, CEO and Founder of Drone Pilot Ground School. "As a leading online test prep and training course for the FAA Part 107 certification, we hope to help professional photographers elevate their craft and to add on a new skill set with drones."
Drone Pilot Ground Schools offers:

70+ Video/Text Lectures – Photographers can access a curriculum built in partnership with a Gold Seal Certified Flight Instructor (CFI) and former Chief Pilot of a Part 141 Flight School to align directly with the FAA's remote pilot certification requirements.
5 Practice Tests & 1:1 Support – Preparation for the Part 107 Aeronautical Knowledge Test is accessed online with lecture quizzes and 5 full-length practice tests. Personal support is available via phone and email.
Flight Proficiency Training - While flight proficiency isn't required by the FAA, Drone Pilot Ground School holds students to a higher standard. Diplomas will be given upon passing the flight proficiency challenge.
Money-Back Guarantee – Drone Pilot Ground School covers the testing fee (normally $150) if their student does not pass the FAA test after taking their course. With a 99%+ success rate, this rarely happens, but they have their student's backs in case it does.
Lifetime Access - To keep one's license, a drone pilot needs to pass a recurrent FAA knowledge test every 24 months. Drone Pilot Ground School students get lifetime access to the online training course, which is updated regularly with the industry.
Real FAA Test Questions – Students can master the FAA's test concepts with a database of 300+ multiple choice questions. After completing a practice test, participants are emailed a performance report and a breakdown of their incorrect responses.
For more information or to get started on the path to drone pilot proficiency head to http://www.dronepilotgroundschool.com
About Professional Photographers of America (PPA):
Professional Photographers of America (PPA) is the largest and longest-standing nonprofit photography trade association with a 150-year history. It currently helps 30,000+ pros elevate their craft and grow their business with resources, protection, and education, all under PPA's core guiding principle of closing the gap between what photographers do as artists and entrepreneurs and what consumers want.