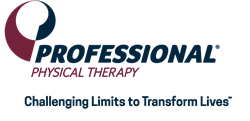 MELVILLE, N.Y. (PRWEB) November 28, 2022
Professional Physical Therapy, a leading provider of outpatient physical therapy and rehabilitation services throughout New York, New Jersey, Connecticut, Massachusetts, and New Hampshire, announces today the opening of a new clinic in Totowa, New Jersey. The addition of this clinic elevates Professional's footprint in New Jersey to 65 locations, totaling over 190 locations across the Northeast.
The Totowa clinic is located at 205 Route 46. Even more patients in New Jersey will have greater access to the clinical expertise and cutting-edge therapeutics offered by Professional.
Dr. Nicholas Licameli, PT, DPT and Clinical Director Partner, remarks, "I am honored to serve the Totowa community and immerse myself into its culture. I have a passion for learning, dedication to family and above all a commitment to my community to improve quality of life and inspire healthy living."
Dr. Licameli completed his doctorate in Physical Therapy at Rutgers School of Biomedical and Health Services. He is an internationally recognized authority on blood flow restriction training, writes for health and fitness publications, is a regular guest on health and fitness podcasts and is an expert on telehealth. He is an author and passionate educator. He also treats patients of all ages including high school, collegiate, and professional athletes, prenatal and postpartum patients and so much more with an overall emphasis on the bio-psycho-social holistic approach to patient care.
Professional's latest opening reflects their ongoing commitment to providing world-class patient care with convenience remaining a top priority. This clinic was opened under Professional PT's partnership program that provides a unique affiliation solution to clinicians and leaders who are vested in ownership and operations.
Services available at Professional Physical Therapy in Totowa include:

Physical Therapy - Our physical therapists treat medical conditions that limit functional mobility and help develop a customized treatment plan to improve the ability to move, reduce pain, restore function, and prevent disability.
Free Injury Screens - If you have an ache, pain, performance issue, or question, you can schedule a 1-on-1 session with one of our physical therapists. We evaluate your condition to help recommend which treatments may be effective, including making a referral if a specialist is advised.
Blood Flow Restriction Therapy – This type of therapy enables patients to make greater strength gains while lifting lighter loads, thereby reducing the overall stress placed on the limb. BFR is often used to treat patients following upper and lower extremity services including ACL reconstruction, hip/knee replacement, rotator cuff and tendon repair.
TMJ Therapy – If you are experiencing jaw pain our physical therapists can provide a treatment plan to strengthen and stretch the muscles in your face to reduce pain and discomfort.
Vestibular Therapy – We have specialists that can design an exercise-based treatment plan to help reduce feeling of vertigo or dizziness and improve balance and coordination.
Additionally, the Totowa clinic:

Accepts most major insurance plans, so you don't need to worry about your visits being covered.
Offers convenient hours, including late evenings.
Does not require a physician referral or prescription to start treatment.
Schedules each initial evaluation quickly, sometime the same or next day.
Provides ongoing patient education on diagnosis, treatment plans and prescribed home-exercise programs.
Professional Physical Therapy currently operates widely across five of the Northeast states. For more information and a list of all Professional Physical Therapy locations and services, please visit http://www.professionalpt.com
About Professional Physical Therapy
Professional Physical Therapy was founded in 1999 and is an industry leader, providing private outpatient physical and hand therapy services throughout the Northeast. Our clinical team is comprised of multi-specialty Physical, Hand and Occupational Therapists who can treat a wide variety of orthopedic injuries and conditions with excellence. Today, Professional has grown to include over 190 facilities in New York, New Jersey, Connecticut, Massachusetts, and New Hampshire.