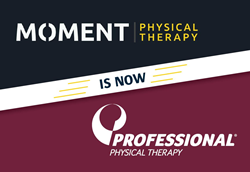 As Professional looks to continue our growth, ensuring that patient values guide all clinical decisions is the first step to being perfectly aligned with our core principles.
MELVILLE, N.Y. (PRWEB) November 09, 2020
Professional Physical Therapy, a leading provider of outpatient physical therapy and rehabilitation services throughout New York, New Jersey, Connecticut, Massachusetts, and New Hampshire, announces today the acquisition of Moment Physical Therapy in Madison, NJ.
Moment Physical Therapy, a private orthopedic clinic, was founded by Dr. Jared Cooper, PT, DPT, CMTPT. Patients at the Madison location, located at 20 Cook Plaza, will now be able to experience the benefits of being a Professional Physical Therapy location: access to Telehealth Certified clinicians, Home Care physical therapy, added convenience with access to more than 180 locations, expanded hours, and most notably, in-network status with most major insurances.
Dr. Cooper is now the Clinic Director of the Madison location. A graduate of Cornell University, Dr. Cooper's fitness classes have been featured in The Wall Street Journal, The NY Sun, and The Chicago Tribune. ABC news anchorman Bill Ritter called Cooper's proprietary Eastern Sculpt class "The hottest exercise in the country". Dr. Cooper has been a Clinical Instructor for the Osteopathic Manual Therapy Fellowship at Morristown Hospital, and for Seton Hall University's and Rutgers University's Doctor of Physical Therapy programs. He is also an international continuing education provider for physical therapists, massage therapists and personal trainers.
"It is exciting to add Jared Cooper and his team at Moment to the Professional family. Jared started his career as a New York City gym owner/personal trainer, went back to school for PT, and then founded a PT practice that is now a staple in the Madison, NJ community. These successes bring significant value and are just the start of his impact with Professional PT. He brings a wealth of knowledge and clinical concepts as well as digital and direct to consumer marketing strategies that will be scaled throughout Pro PT to increase our Direct Access volume," says Dave Del Vecchio, Professional's Regional Director of Operations in New Jersey.
Professional Physical Therapy CEO Dan Dourney adds, "We are honored to welcome Jared and Karen Cooper to our Professional Physical Therapy family. Their approach to patient-centered care and being responsive to the individual patient preferences, needs, and values, is a testament to the stellar reputation built by Moment Physical Therapy over the past 8 years since its inception.
As Professional looks to continue our growth, ensuring that patient values guide all clinical decisions is the first step to being perfectly aligned with our core principles. We look forward to a true partnership with Dr. Cooper and his staff. We are eagerly looking for growth opportunities with acquisitions that provide accretive value to our organization such as this."
Cooper said of the new acquisition of Moment PT, "I am excited about joining forces with Professional! Being in-network will allow us to help even more people. The resources and relationships offered by Professional will help us to continue our growth as a clinic. I'm looking forward to what's ahead."
As Professional Physical Therapy continues to serve as an essential business throughout the Northeast, expansion and growth are still among the top priorities for its leadership. Professional's latest acquisition of the Moment PT practice is a reflection of its ongoing commitment to providing world-class patient care. Despite a global pandemic, Professional's recovery track has enabled the organization to evaluate the business environment and act on opportunities that best serve its mission; Challenging Limits to Transform Lives.
Professional Physical Therapy currently operates widely across five of the Northeast states. For more information and a list of all Professional Physical Therapy locations and services, please visit http://www.professionalpt.com
About Professional Physical Therapy
Professional Physical Therapy, headquartered in Melville, New York, is a leading provider of outpatient physical and hand therapy and rehabilitation services throughout the New York Metropolitan area, New Jersey, Connecticut, Massachusetts and New Hampshire.
Professional's patient-centric treatment philosophy is focused on providing exceptional, compassionate care to the entire person, and not just their injury. Their licensed Physical Therapists design customized treatment plans, using the most innovative therapeutics, to help patients achieve and exceed their goals. Service offerings include telehealth, in-home physical therapy, and outpatient physical, hand, and occupational therapy in over 180 clinics throughout the Northeast.