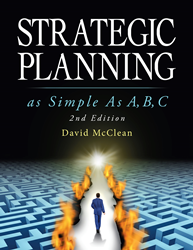 "A must read for leaders concerned about the future. Dave McClean provides a gift of knowledge, tools, and ideas that work regardless of the size of your company or organization." – Brian Layer, CEO, N2growth, Brigadier General, US Army, Retired
PHOENIX (PRWEB) April 27, 2020
With businesses and organizations around the world forced to shut down or downsize due to the COVID-19 pandemic, making sure they have a solid strategic plan in place for when mandatory stay at home orders are lifted is the first step they need to take in order to find success once again. Accomplished businessman and former military strategic planner, COL David R. McClean (USA, Ret.) demystifies the strategic planning process through his illuminating new guidebook "Strategic Planning as Simple as A, B, C – 2nd Edition."
Instead of businesses hiring expensive consultants to create strategic plans for them, McClean's book provides all the information they will need to develop and implement their own plan using low cost internal resources to allow them to build a more productive and relevant organization. Through The McClean Method (TMM), businesses will find a detailed roadmap providing general framework, useful methodologies and helpful solutions to facilitate transformation, reduce variation, and minimize constraints on formulating their plans.
"'Strategic Planning as Simple as A, B, C' is a must read for leaders concerned about the future. Dave McClean provides a gift of knowledge, tools, and ideas that work regardless of the size of your company or organization. His considerable experience rings through in clear prose and his timeless ideas offer a steady guide in this dynamic and unpredictable time." – Brian Layer, CEO, N2growth, Brigadier General, US Army, Retired
The documents, briefings and activities featured in this guidebook make the job of strategic planning easier by breaking it into separate, manageable tasks so that even a less experienced professional can create and implement a successful strategic plan which is more important now than ever. To learn more, please visit http://www.allonsbiz.com.
"Strategic Planning as Simple as A, B, C – 2nd Edition"
By David McClean
ISBN: 978-1-6847-4000-0 (sc); 978-1-6847-4026-0 (e)
Available through Amazon, Barnes & Noble, and Lulu
About the Author
COL David McClean (USA, Ret.) is a business mentor and coach and currently President of Allons Business Solutions with over 27 years of logistics experience, with a professional background in strategic planning, training and education, process improvement, logistics management and organizational development. He graduated from Central Michigan University with a master's degree in Human Resource Management and bachelor's degree in Structural Engineering, Program Management from Villanova University and is a certified Lean Six Sigma Black Belt. Through his Six Sigma qualifications, McClean developed numerous new initiatives that refocused daily requirements and fused them into opportunities to improve business processes, reduce operating costs and set long term strategic goals into motion that provide new and persistent benefits for organizations.
For Review Copies & Interview Requests Contact:
LAVIDGE Publicity
Lauren Dickerson
ldickerson@lavidge.com, 480-306-7117