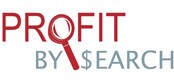 The company is offering 8% discounts on all its services.
New York (PRWEB) September 04, 2013
Profit By Search's SEO packages range from a Bronze package, which is suited for those looking to get their website featured in the search engines, to a Platinum Package, designed to take the website to a whole new level even for very competitive search phrases. The company is offering 8% discounts on all its services.
Profit By Search's SEO Plan Comprises of following Activities:
Search Engine Optimization
Design Search Engine Friendly Web Sites
Paid Submissions to Major Search Engines
Submissions to Industry Specific Engines
Submissions to Regional Engines
Regular Reporting & Monitoring of Web Site
Competitor Analysis & Monitoring Content Composition Services
Pay Per Click Campaigns
Link Popularity Services
SEO Company of India, Profit By Search is offering 10% discount on all its SEO Packages on this Eid, 26th January, 2013. To avail of this Discount, use the Coupon code 'PBSREPUBLIC'.
About Profit By Search
One of the premier providers of SEO Services, Profit By Search not only serves the purpose of increasing a client's website visibility on major search engines, but it also helps solve various technical problems of a website like providing a client with unique content to keep the website away from getting slapped by the Google Panda, improvise on methods to improve lost rankings, helps fight better with the bounce rates, maximize the rate of return on investment for advertising budget and many other such services.
SEO should be a part of every websites' marketing mix, they deliver result for companies around the world so if one wants Profit By Search, India's #1 SEO Company to help with their big plans then they would take their own initiative to chat about India's finest SEO Service offerings.
Visit http://www.profitbysearch.com/ or call (888) 322-7617 for more information about the SEO Plans and other services provided by Profit By Search.