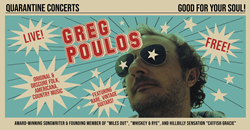 Join us as award-winning songwriter, Greg Poulos, thrills us with original & obscure folk, Americana, and country music live online, during coronavirus social distancing!
WIXOM, Mich. (PRWEB) April 21, 2020
Greg Poulos, co-founder of Profits Run, organized a home concert to entertain friends, family, and anyone looking for live music and entertainment while staying home due to the coronavirus. Poulos' free concert aims to lift spirits and give people a chance to enjoy live music as quarantine and social distancing continues for COVID-19.
His next concert is scheduled for April 21st from 3 – 4pm EDT and will be hosted on Facebook Live, free of charge. The event description reads, "Please join us as award-winning songwriter Greg Poulos thrills us with original & obscure folk, Americana, and country music! Fun for most ages!" Poulos will perform with rare vintage guitars to give his concert an additional fun and unique touch. Poulos was a founding member for several bands, including Miles Out, Whiskey & Rye, and Catfish Gracie.
Outside of his personal concerts, Poulos has also supported other musicians to host FB live concerts. Regarding one group he coached, Poulos said, "This is making a huge difference in their lives. It will not only help them pay their bills, but this could turn into a blessing in disguise as they learn to reach more people all around the world, not just the locals they're used to playing for in their town. If you know musicians in the same boat and you're a marketer, please help them out like this!"
Greg Poulos co-founded Profits Run with his father, Bill Poulos. Greg Poulos has a long professional history in technology and marketing. At Profits Run, Poulos is responsible for operations and marketing and supports strategic direction and planning with his father.
COVID-19 (Coronavirus Disease) is an infectious disease caused by a novel virus. The disease causes respiratory illness with symptoms such as a cough, fever, and in more severe cases, difficulty breathing and death. Because the disease is highly contagious, many companies have been forced to close or drastically change how they conduct business. At time of writing, the USA has 770,000 confirmed cases.
About Profits Run, Inc.
In 2001, Greg Poulos co-founded Profits Run, Inc. with his father, Bill Poulos. Profits Run Inc. is an investment program and a financial education firm. Poulos named Profits Run after a popular saying amongst traders, "Cut your losses and let your profits run." Profits Run's mission is to help its students become better investors so they can grow their portfolio. Profits Run has been featured by Fox News, Rush Limbaugh, Glenn Beck, SiriusXM radio, and others.