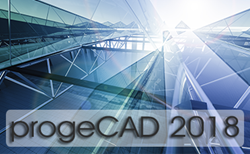 progeCAD 2018, the new release with perpetual licenses, offers enhanced performance, PDF import, Shape file import, the new Render engine and a lot more.
Chiasso. Switzerland (PRWEB) May 17, 2017
progeCAD Professional is a 2D/3D DWG/DXF-native CAD package with perpetual licensing solutions for technical drawing. Today ProgeSOFT SA unveils progeCAD 2018 Professional, the new major release of the CAD package which offers standard CAD features as well as numerous handy add-ons such as the PDF to DWG Converter, easy-to-use revolutionary Render engine, Block Libraries with over 22.000 blocks, the Raster-to-Vector module, Google Earth integration, Shape file Import, Perspective Correction, the EasyArch plugin for architects, 3D PDF export, Traceparts and Cadenas portals integration with free access to thousands of blocks etc.
The new version, progeCAD 2018 Professional, is released on the latest IntelliCAD platform and beefed up with further new features and add-ons, proposing to the User a wide range of new efficient commands and options, enhanced tools and features as well as error fixes. To begin with, the brand new easy-to-use Artisan Render module has been incorporated to offer stunning visualisation of design projects with by far greater photorealistic render effects. Artisan makes the high quality render possible even to non-expert Users. Perspective Image Correction is another tool of the new edition added as a result of Users' intense and multiple requests. The tool allows to adjust perspective distortions of images directly in progeCAD. Simply pick up four points of a polygon on an image and the image will be automatically corrected.
Focusing on the new commands in progeCAD 2018, the SUPERHATCH command accessible through the Express Tools menu has been introduced to create amazing hatches out of images, blocks, external references and wipeout objects. SUPERHATCH allows the User to achieve realistic effects and simulate the use of materials, for example, roof tiling, furniture finish or mechanical components materials, even in a 2D drawing. The Shape file import is also in the spotlight of the new release. The ESRI shape file, the format of interoperability with GIS applications, contains vectors such as points, lines and polygons representing geographic features (rivers, lakes, buildings, area boundaries etc.) and attributes describing this geometry. GIS Shape files with data attributes extend the possibilities of geographic data representation inside a drawing.
Click http://lnk.progesoft.com/IskGLK7u to watch the Video illustrating the new features of progeCAD 2018 Professional.
"progeCAD 2018 Professional is here to make a huge impact on your design process with better performance and reliability along with inviting price tags and perpetual licensing solutions," comments the new release Marco Lucini, CEO at ProgeSOFT SA.
Among other enhancements of progeCAD 2018: Object Snap on PDF, DWF and DGN Underlay, Improved Pointcloud, Default layers for hatches and dimensions and the new in-place text editor to name a few. The progeCAD 2018 User Interface has been augmented with the introduction of new menus, image and text ribbon contextual tabs, Fade control on locked layers and Xrefs and new drawing area management.
To learn all the progeCAD 2018 new features, please refer to the official website and the dedicated YouTube Channel.
The ProgeSOFT team invites to download a 30-day fully functional trial version of progeCAD 2018 Professional here.
About Company
ProgeSOFT SA is a private software company specializing in cost-efficient CAD solutions. With large experience of operation in the CAD industry, ProgeSOFT offers the versatile CAD platforms for Windows and Mac and applications for architectural, mechanical, electrical, GIS, HVAC/Piping and some other industries. ProgeSOFT is also a founder and executive member of the IntelliCAD® Technology Consortium.
ProgeSOFT SA
http://www.progesoft.com
news.progesoft.com