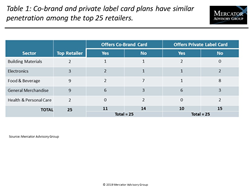 The competitive challenges facing retailers in adjusting the mix of online versus physical store sales creates strategic challenges for all stakeholders.
BOSTON (PRWEB) January 10, 2020
In spite of their many advantages and widely deployed infrastructure, private label credit cards (PLCCs) are now subject to new competitive market forces in the U.S. market. Yet they remain an essential credit vehicle. They have successfully been adapted and grown over decades. They continue to show flexibility as retailers refresh their offerings, and they continue to enjoy a major numeric advantage in number of accounts compared to the newer transactional credit accounts. The analysis presented in Mercator Advisory Group's latest research report, Private Label Credit Cards Update: New Opportunities, New Competitors, reviews strategic developments and product outlook for private label credit cards and their stakeholders.
"The ability of the PLCC industry to remake itself and grow over the decades is remarkable, and it continues to attract new issuers and program sponsors. The competitive challenges facing retailers in adjusting the mix of online versus physical store sales creates strategic challenges for all stakeholders," commented the author of the research report, Brian Riley, Director, Credit Advisory Service at Mercator Advisory Group. "But innovative programs ensure PLCC products will keep pace with the needs of retailers and their customers."
Highlights of the research report include:

Consumer survey data documenting U.S. cardholders' shifts in product use and inclinations to use alternative credit at checkout or point of sale (POS)
Trends in PLCC accounts versus general purpose cards and unsecured personal loan products in the United States.
The competitive environment of PLCC issuer competitors
A review of the leading retailer programs and issuing partners
Product innovations reshaping the PLCC landscape, including secured PLCCs and semi-closed loop PLCC programs
This research report contains 19 pages and 12 exhibits.
Companies and other organizations mentioned in this research report include:. Alliance Data/Comenity, Amazon, Apple, Capital One, Chase, Citibank, Discover, Goldman Sachs, US Bank, Synchrony, TD Bank, and Walmart.
Members of Mercator Advisory Group's Credit Advisory Service have access to these reports as well as the upcoming research for the year ahead, presentations, analyst access, and other membership benefits.
For more information and media inquiries, please call Mercator Advisory Group's main line: 1-781-419-1700, or send email to media@mercatoradvisorygroup.com.
For free industry news, opinions, research, company information and more, visit us at http://www.PaymentsJournal.com.
Follow us on Twitter @ http://twitter.com/MercatorAdvisor.
About Mercator Advisory Group
Mercator Advisory Group is the leading independent research, and advisory services firm exclusively focused on the payments and banking industries. We deliver pragmatic and timely research and advice designed to help our clients uncover the most lucrative opportunities to maximize revenue growth and contain costs. Our clients range from the world's largest payment issuers, acquirers, processors, merchants and associations to leading technology providers and investors. Mercator Advisory Group is also the publisher of the online payments and banking news and information portal PaymentsJournal.com.