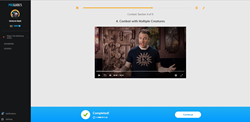 "Magic: The Gathering has always been fun to play, and now, getting started is easier than ever," said Sam Wang, CEO of ProGuides
LOS ANGELES (PRWEB) April 24, 2019
ProGuides, an Esports learning platform where committed gamers get better, today announced a partnership with collectable card game Magic: The Gathering to launch a free, fun training program. Nearly 60 minutes of content will deliver more than 40 video lessons that encompass beginner and immediate courses. The premium course catalog will be available to fans worldwide on April 24.
The lessons are designed to both welcome new players and help existing fans of the physical game get online. Magic: The Gathering Arena combines the same amount of depth and strategy that has delighted over 38 million tabletop players, with a user-friendly onboarding process, great watchability and the opportunity to reach new competitive communities. The ProGuides "beginner" lessons are designed to quickly guide players toward building "decks," become comfortable with the game's cadence, and competing at an enjoyable level. For players already familiar with the game's mechanics, "advanced" lessons will provide insight on expert strategy, layered combinations, and how to forecast your opponent's future plays. The courses are 'gamified," with questions after each video to confirm retention and encourage progression in a fun format.
"Magic: The Gathering has always been fun to play, and now getting started is easier than ever," said Sam Wang, CEO of ProGuides. "With ProGuides' courses, players can quickly navigate the game's most complex elements and jump right into having fun. Games across the industry are getting more difficult to play every day, and we're committed to providing gamers with the learning content they need to stay competitive."
Competitive Esports like Magic: The Gathering Arena have ballooned in recent years. By 2020, the industry is expected to surpass $1.5 billion in yearly revenue and regularly host massive tournaments where live, online viewership eclipses that of their professional-sports counterparts, including the NBA and MLB finals.
To access the premium content, players simply visit http://www.proguides.com/magic, create a new ProGuides account and start enjoying complimentary access. Many of the lessons will feature fan-favorite Magic: The Gathering champion, commentator and broadcaster, Day9. A teaser video will be featured on his YouTube video channel, which boasts 242 million lifetime views.
Beyond Magic: The Gathering Arena, ProGuides currently supports four major games with 3,200 minutes of video content and plans to expand to 10 titles by the end of the year. In addition to developing custom content for game developers, ProGuides also provides complete training curriculum for collegiate Esports programs across the country. For more information, visit: http://www.proguides.com
# # #
About ProGuides:
ProGuides is an Esports learning platform where committed gamers get better. With access to hundreds of hours of free, gamified curriculum custom designed by professional gamers, 160,000-plus players count on ProGuides to advance their strategy, skills and ranking within the world's most competitive games. For players looking to elevate their development further, or even compete for millions in Esports prize money and collegiate scholarships, paid subscriptions offer custom coaching with direct insight to individual playing style and stats via technology partnerships with the industry's top game developers. Hosting 25 employees at its Los Angeles headquarters, ProGuides currently supports four major titles, has plans to launch an additional six before 2020, carries long-standing relationships with the world's top gamers as content consultants, coaches and promotional partners, and is applying it's $1.9 million in pre-seed funding to further accelerate the platform's development. For more information, visit: http://www.proguides.com
About Wizards of the Coast:
Wizards of the Coast brings people together through their shared love of games. Magic: The Gathering, Dungeons & Dragons, and other Wizards games are enjoyed by friends around the world, both at gaming tables and on digital platforms. We bring together world-class creators in game design, worldbuilding, fantasy art, and interactive events to create unforgettable moments. Wizards of the Coast is a subsidiary of Hasbro, Inc. (NASDAQ:HAS). For more information, visit http://www.wizards.com.