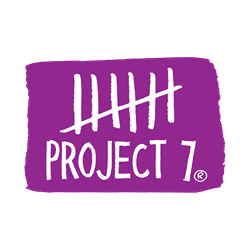 SAN CLEMENTE, Calif. (PRWEB) March 01, 2021
Project 7, the whimsical candy brand that makes better-for-you sweets, today announced the expansion of their low-sugar candy line with the addition of two new products: Sour Apple Rings and Sour Gummy Worms. The new additions further illustrate the brand's total commitment to making low-sugar candy recipes with unique, flavor-packed fun.
Project 7's Sour Apple Rings and Sour Gummy Worms tout only 3 grams of sugar, 6 net carbs, and 60 calories per bag; the lowest carb and calorie counts of any candy brand on the market. Bursting with flavor, the Sour Apple Rings feature a delicious combination of Granny Smith tartness paired with mouthwatering sweetness, and the Sour Gummy Worms come in unique flavors such as Tropical Nights, Lemon Sublime, and Rainbow Ice. Like all Project 7 candy, the new Sour Apple Rings and Sour Gummy Worms are 100% plant-based and made with no animal bi-products nor gelatin, no artificial colors, flavors, nor preservatives; and are free from sugar alcohols, inulin, and IMO. Project 7's entire low-sugar candy line is vegan, keto-friendly, low-calorie and low-carb.
"We are thrilled expand our low-sugar offerings to include Sour Apple Rings and Sour Gummy Worms, and to dive deeper into our total commitment to making low-sugar treats," said Tyler Merrick, CEO and founder of Project 7. "We tested countless iterations of these products, perfecting these delicious recipes that are jam-packed with flavor and fun, and are excited to offer even more better-for-you candies for everyone to love."
The new Sour Apple Rings and Sour Gummy Worms are now available to begin shipping to consumers. Project 7 is available nationally in independent, specialty, and natural food stores across the United States including Amazon, Target, Sprouts, Meijer, Harris Teeter, REI, and World Market. For more information about Project 7, please visit project7.com.
###
About Project 7:
Project 7 began with chewing gum and quickly became known for its fun, whimsical flavors like Birthday Cake, Rainbow Ice, and Cotton Candy. More than just a delicious treat, Project 7 has taken tried-and-true candy classics and made them better-for-you and plant-based with reduced sugar, carbohydrates, and calories, while still maintaining the mouthwatering, nostalgic flavors that customers have come to love and crave. Other low-sugar offerings from the brand include Sour and Fruit Gummy Bears and Golly Lolli's, which debuted in Summer 2020; as well as new low-sugar Hard Candy, which will launch later in 2021.