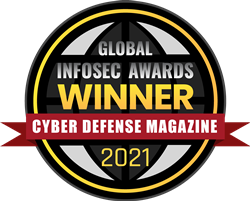 BOULDER, Colo. (PRWEB) May 18, 2021
Circadence, a market leader in cybersecurity education and training, is proud to announce recognition for its Project Ares cyber learning platform from Cyber Defense Magazine (CDM), the industry's leading electronic information security magazine. Project Ares has received the first-place award in the "Cutting-Edge in Cybersecurity Training" category.
"We're delighted to receive one of the most prestigious cybersecurity awards in the world from Cyber Defense Magazine. The cutting-edge technology and interface is wrapped in a gamified environment, making it one of the reasons Project Ares is able to effectively scale training in a hands-on manner," said Michael Moniz, CEO and Co-Founder of Circadence.
Circadence has flipped the script on how cybersecurity training is done by bringing experiential learning into the [virtual] classroom and into the [remote] SOC center with Project Ares. The solution helps cyber educators teach the subject and enterprise security managers train teams through threat-inspired scenarios. With Project Ares labs, instructors can provide project-based learning experience and learners can get hands-on-keyboard cybersecurity practice right from the convenience of their remote workstation.
"We scoured the globe looking for cybersecurity innovators that could make a huge difference and potentially help turn the tide against the exponential growth in cyber-crime. Project Ares is absolutely worthy of this coveted award and consideration for use with your cyber students and staff," said Gary S. Miliefsky, Publisher of Cyber Defense Magazine.
Project Ares by Circadence is thrilled to be awarded among a talented group of winners, located here: http://www.cyberdefenseawards.com/
About Project Ares by Circadence
Project Ares is an award-winning platform that provides hands-on cyber security labs that enhance competency-based education for teachers and reinforce readiness objectives for trainers. Its authentic library of threat scenarios are immersive and reflect contemporary threat incidents. Learners have the ability to use real security tools, tactics, and procedures in Project Ares to effectively perform offensive and defensive activities to build cyber skills and competencies on-demand. Circadence is a Microsoft Partner and Education Specialist. For more information, visit http://www.circadence.com.
About Cyber Defense Magazine
With over 5 Million monthly readers and growing, and thousands of pages of searchable online infosec content, Cyber Defense Magazine is the premier source of IT Security information for B2B and B2G with our sister magazine Cyber Security Magazine for B2C. We are managed and published by and for ethical, honest, passionate information security professionals. Our mission is to share cutting-edge knowledge, real-world stories and awards on the best ideas, products and services in the information technology industry. We deliver electronic magazines every month online for free, and special editions exclusively for the RSA Conferences. CDM is a proud member of the Cyber Defense Media Group. Learn more about us at https://www.cyberdefensemagazine.com and visit https://www.cyberdefensetv.com and https://www.cyberdefenseradio.com to see and hear some of the most informative interviews of many of these winning company executives. Join a webinar at https://www.cyberdefensewebinars.com and realize that infosec knowledge is power.