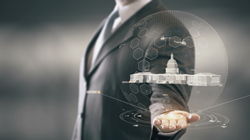 "We are working with every branch of the military," said Scott Chapman, CEO Project Hosts. "Now they can move their CUI workloads to the cloud in weeks rather than months or years."
SUNNYVALE, Calif. (PRWEB) July 02, 2019
Project Hosts has solved a key challenge for US Department of Defense (DoD) agencies that would like to migrate Controlled Unclassified Information (CUI) or For Official Use Only (FOUO) workloads to the cloud. When moving to the cloud, DoD mission owners must ensure that two main requirements are satisfied: (i) the cloud must have a Defense Information Systems Agency (DISA) Impact Level 5 (IL5) Provisional Authorization (PA), and (ii) the connection to the cloud must have all of the protections in place specified in DISA's Secure Cloud Computing Architecture (SCCA). Using Microsoft Azure Government, Project Hosts now has a solution that makes the complex task of meeting and maintaining the requirements set forth in DISA's SCCA guidance a much smaller hurdle for any organization's move to the cloud.
The SCCA specifies that access from the Defense Information Systems Network (DISN) to a cloud environment must connect directly via a Boundary Cloud Access Point (BCAP) and be highly secured and monitored to protect all networks and resources. While DISA provides a BCAP connection to Azure Government for DoD organizations to utilize, mission owners have had the responsibility to implement the other protections and requirements themselves. The two most difficult protections for mission owners to build and operate have been the required Virtual Datacenter Security Stack (VDSS) and Virtual Datacenter Managed Services (VDMS) solutions.
The Project Hosts Federal Private Cloud DoD Network (FPCDOD) is a managed PaaS environment with a DISA IL5 PA that is built on Azure Government. The managed services provided by the FPCDOD include all of the VDSS and VDMS required for any DoD mission owner's applications.
"We are working with every branch of the military," said Scott Chapman, CEO Project Hosts. "Now they can move their CUI workloads to the cloud in weeks rather than months or years."
"The Azure-based Project Hosts' Federated Private Cloud removes major barriers, primarily for DoD mission owners seeking to move their workloads to the cloud, enabling them with the right level of compliance to quickly reap the benefits of the latest commercial cloud technologies," said David Smith, VP US Partner Development at Microsoft.
Project Hosts' Federal Private Cloud is the first and only commercial cloud service to have a DISA IL5 PA and to incorporate into their services VDSS and VDMS for applications that a DoD mission owner brings to the cloud. The FPCDOD is listed in the DISA storefront under the Cloud Computing Services Catalog.