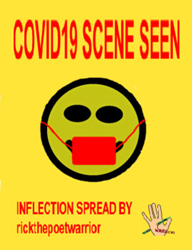 I created RickthePoetWarrior with the intention of writing on various non-standard poetry subjects, including politics, science, and 'stuff,' using humor and satire as a means of making poetry palatable to a wider audience.
VICTORIA, British Columbia (PRWEB) March 03, 2021
The Canadian poet known by the moniker RickthePoetWarrior has just unleashed ten new volumes of his poetry. Clever, humorous, and thoughtful, the poet tackles an astonishing array of topics.
Included among RickthePoetWarrior's cache of recent works is 'COVID19 SCENE Seen,' which critiques the over-the-top and fear-based responses to the Coronavirus by governments, so-called experts, and laypeople alike. The poetic voyage of 'Victoria by Deceit of the Pants,' looks at "one of Canada's oldest and oddest cities." The often-bawdy 'Aural Gynecology,' goes in for an examination of relationships between men and the fairer sex, while the 'The Computer Part e-' exposes tech geekdom as well as how technology has lead to a society of dumbed down narcissists. The unabashedly boorish and no-frills titled 'One Hundred Fart Poems' offers at least an equal number of gassy laughs for those not too refined to acknowledge sophomoric tendencies. And with all of that, we've only covered half of the ten new releases.
Rick's professional background includes freelancing IT skills, running retail stores, and dabbling in website creation—all of which left him "spiritually exhausted," and led him to create his poetic alter ego, RickthePoetWarrior, to give voice to his viewpoints and promote his politics in an entertaining manner.
"When I decided to write, I looked at the current state of poetry and decided I didn't want to go mainstream with verse about pretty flowers or lost loves," explains the author. "I created RickthePoetWarrior with the intention of writing on various non-standard poetry subjects, including politics, science, and 'stuff,' using humor and satire as a means of making poetry palatable to a wider audience."
The poetry of RickthePoetWarrior makes frequent use of puns and creative wordplay, keeping the reader simultaneously hooked, amused, and eagerly anticipating the next unexpected turn of phrase.
RickthePoetWarrior's tone is often dark and cynical. He approaches topics with an offbeat, quirky and no-holds-barred viewpoint. Across the various volumes of his new releases, themes frequently include a distrust and dislike of government and big business alike, class struggles, and a sympathy for the downtrodden accompanied by spite for "TheRich."
Consistent with his identity as a "warrior," Rick does not simply rail against generalities. From top social media and tech companies (and their CEOs), to orange-haired Presidents of the United States, to politicians from his native Canada, and even to his homeland's most famous coffee and donut purveyor, he names names. Yet, as a "poet warrior," he wields words—albeit razor-sharp as a sword. His vocabulary is sometimes salty, and always colorful.
The copyright page of each volume finishes with the kindly greeting, "Peace be with you." Perhaps an unlikely greeting for a warrior—though RickthePoetWarrior is after all a poet, and thus an ultimately peaceful warrior. (And lest one be tempted to classify him as simply a wild-eyed political radical, recall his other works, including his collection of poems about flatulence).
"Despite my sarcastic and cynical attitude, I love people, and that is my motivation for writing," says the poet. "That, and the thought that I might actually make them think about something besides themselves."
RickthePoetWarrior doesn't reserve all his barbs for the soft bellies of others—he's prone to frequently turn the sword inward with self-deprecating humor. Of his audience he says, "they should be able to laugh at themselves, because that's who I'm making fun of most of the time—us." With such a hilarious object for roasting, readers might wonder why only ten new volumes. Surely, RickthePoetWarrior's pen will not run dry anytime soon.
A full list of RickthePoetWarrior's ten newest releases is available at eBookIt's website.
About RickthePoetWarrior
Rick was born in New Brunswick, Canada, the middle child of five siblings. He held a variety of interesting jobs: he was a Streaker before going to work for the Boy Scouts, and then got his degree in programming. He also worked in Egypt as a peacemaker for a year before heading back to Canada. "Half Irish, half Polish, I like forcing the round peg into the square hole, just to piss off my counsel."
About eBookIt.com
Since 2010, eBookIt.com (based in Sudbury, Massachusetts) has helped thousands of authors and publishers get their books converted to ebook format, and distributed to all the major ebook retailers, including Amazon.com, Barnesandnoble.com, Apple iBookstore, Kobo, Scribd, Ingram Digital, and Google eBookstore.