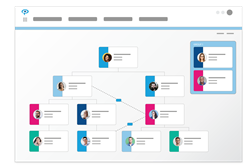 BEAVERTON, Ore. (PRWEB) March 16, 2020
PROLIFIQ today announced it has released PROLIFIQ RELATIONSHIP MAP on Salesforce AppExchange. The new app boosts sales and customer success performance and enables 360-degree engagement with customers and prospects.
Built on the Salesforce Platform, PROLIFIQ RELATIONSHIP MAP is currently available here on AppExchange.
PROLIFIQ RELATIONSHIP MAP
Embed real-time productivity inside your trusted CRM and bring your data to life with an advanced key account relationship map. With PROLIFIQ RELATIONSHIP MAP, sales and customer success teams are armed with valuable intelligence that enables them to build pipelines, increase win rates, cross-sell and up-sell, and drive deeper customer relationships - all inside Salesforce. Highlights include:

Transform your customer engagement and bring your contacts to life with advanced drag-and-drop visualization technology.
Quickly transform obscure contact lists into visual org charts that improve clarity and help you grow customer relationships.
Unlock opportunities and pinpoint important stakeholders in key accounts.
Identify your champions, earmark supporters, flag blockers and develop actionable insights to drive better decisions.
Group your contacts and find relationships that improve sales performance and customer satisfaction.
Bring your most valuable sales and customer service motions inside your trusted CRM, even when you're mobile and on the road.
Snap it in and keep selling - PROLIFIQ RELATIONSHIP MAP is Powered by Lightning and built on the Salesforce platform.
Comments on the News

"This tool is so easy to use and we love that it easily integrated with our Salesforce instance," said Tamila Abenova, Senior Sales Operations Analyst of BigID. "Our team loves the relationship map and key stakeholder features."
"We help our customers service their customers," said Vrahram Kadkhodaian, President and CEO of PROLIFIQ. "RELATIONSHIP MAP is built on Salesforce for Salesforce, enabling sales and service teams to quickly visualize key account hierarchies and develop valuable relationships."
"PROLIFIQ's RELATIONSHIP MAP is a welcome addition to AppExchange, as they power digital transformation for customers by helping drive key account plans," said Woodson Martin, GM of Salesforce AppExchange. "AppExchange is constantly evolving to enable our partners to build cutting-edge solutions to drive customer success."
About Salesforce AppExchange
Salesforce AppExchange, the world's leading enterprise cloud marketplace, empowers companies to sell, service, market and engage in entirely new ways. With more than 5,000 listings, 7.5 million customer installs and 90,000 peer reviews, it is the most comprehensive source of cloud, mobile, social, IoT, analytics and artificial intelligence technologies for businesses.
Additional Resources

Salesforce, AppExchange and others are among the trademarks of salesforce.com, inc.
About PROLIFIQ
PROLIFIQ is a leading sales enablement company, pioneering native Salesforce account-based selling for key account management and digital content management that empower sales teams to boost performance and become trusted customer advisors. Some of the world's leading brands choose PROLIFIQ to crush competitors and ace the customer experience. For more information, visit prolifiq.com.