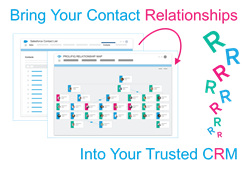 "We're inspired each day to serve our customers through continuous innovation and support," said Vrahram Kadkhodaian, President and CEO, PROLIFIQ.
BEAVERTON, Ore. (PRWEB) July 20, 2020
PROLIFIQ today announced it has updated PROLIFIQ CRUSH, PROLIFIQ RELATIONSHIP MAP and PROLIFIQ ACE on Salesforce AppExchange. The Summer Release enhancements improve customer engagement, marketing and customer success productivity.
Built on the Salesforce Platform, CRUSH, RELATIONSHIP MAP and ACE are currently available on AppExchange.
PROLIFIQ CRUSH
PROLIFIQ CRUSH is a key account management app that arms sales and customer success teams with valuable account intelligence that enables them to drive more business.
Working closely with customers and partners who help drive product roadmap direction, usability enhancements are available throughout CRUSH SWOT Analysis, CRUSH Cross-Sell, and CRUSH Influence Chart.
PROLIFIQ RELATIONSHIP MAP
PROLIFIQ RELATIONSHIP MAP enables sales and customer success teams to bring their contacts to life across Salesforce Sales Cloud and Quip. Users can quickly identify champions, earmark supporters, flag blockers, and develop actionable insights to drive better decisions.
The CRUSH Influence Chart has been added to PROLIFIQ RELATIONSHIP MAP. This combination enables sales and customer success teams to compete more effectively by viewing and managing their relationships with two highly visual and complementary tools.
Other enhancements include the ability to save settings for each map, show or hide parents on organizational charts, use the new overview feature to pan across large maps, set the orientation of a map to horizontal or vertical, and add placeholders to identify key contacts that need to be identified or new positions that need to be filled.
PROLIFIQ ACE
PROLIFIQ ACE is a digital content management app that enables sales and customer success reps to deliver marketing content that embraces buyer journeys.
ACE Content Adviser includes a new relevant content feature that recommends content wherever you're working in Salesforce Sales Cloud or Salesforce Service Cloud, such as accounts, plans, contacts, industries and opportunities.
ACE Engage has been enhanced to associate and report activity such as email sends, clicks and views, with contact records. Additional content email security protections have also been introduced.
Comments on the News

"We continue to drive innovation because of our amazing employees," said Vrahram Kadkhodaian, President and CEO, PROLIFIQ. "Together, we're inspired each day to serve our customers through continuous innovation and support."
"We are excited that PROLIFIQ is continuing to innovate on AppExchange as they help drive sales and customer success productivity," said Woodson Martin, GM of Salesforce AppExchange. "AppExchange is constantly evolving to meet the needs of our customers, and we love watching our partners evolve alongside us."
About Salesforce AppExchange
Salesforce AppExchange, the world's leading enterprise cloud marketplace, empowers companies to sell, service, market and engage in entirely new ways. With more than 5,000 solutions, 7.5 million customer installs and 90,000 peer reviews, it is the most comprehensive source of cloud, mobile, social, IoT, analytics and artificial intelligence technologies for businesses.
Additional Resources

Salesforce, AppExchange, Sales Cloud, Quip, Service Cloud and others are among the trademarks of salesforce.com, inc.
About PROLIFIQ
PROLIFIQ is a leading sales enablement company, pioneering native Salesforce account-based selling for key account management and digital content management that empower sales teams to boost performance and become trusted customer advisors. Some of the world's leading brands choose PROLIFIQ to crush competitors and ace the customer experience. For more information, visit prolifiq.com.