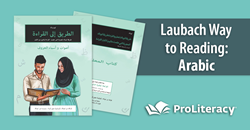 "There are 760 million adults globally who cannot read and write, two-thirds of this population are women," says Kevin Morgan, president and CEO of ProLiteracy.
SYRACUSE, N.Y. (PRWEB) April 09, 2020
ProLiteracy, which has more than 1,000 member organizations in the U.S., and 30 partners in 25 countries worldwide, is excited to announce that it has translated and digitized Laubach Way to Reading into the Arabic language. Laubach Way to Reading is a time-tested method that has taught millions of adults to read. It is based on Dr. Frank Laubach's years of research teaching adults.
Updating and digitizing Laubach Way to Reading will help ProLiteracy meet its goal of reaching one million low-literate adults annually by providing quality content through today's technology. Creating digital versions of Laubach Way to Reading in Arabic will tackle two major problems: the lack of materials for many literacy providers, and the lack of teacher training.
Why Arabic? Arabic is the fifth most commonly spoken language in the world. Literacy rates, especially for women in the Arab region, are among the lowest in the world. The Arab League Educational, Cultural, and Scientific Organization (ALECSO) states that the illiteracy rate in Arab countries exceeds 19%, or nearly 97 million people. Of the 22 Arabic-speaking countries, ProLiteracy will focus on the five with the lowest literacy rates for women, starting with Morocco and Egypt.
"There are 760 million adults globally who cannot read and write, two-thirds of this population are women," says Kevin Morgan, president and CEO of ProLiteracy. "For example, in South Sudan, which has one of the lowest literacy rates in the world, only 60% of teachers are trained. For over six decades, ProLiteracy has worked in partnership with educators and local NGOs in areas around the world where the majority of learners served are women. Literacy becomes a catalyst for learning, action, and problem solving that unites communities. We are excited to be able to provide systematic instructions in the Laubach Way to Reading teacher's edition and the illustrated student book to equip teachers with the tools they need to educate adults."
###
About ProLiteracy
ProLiteracy Worldwide, recipient of the 2019 David M. Rubenstein Prize of the Library of Congress Literacy Awards Program, advances and supports programs to help adults acquire literacy skills needed to function more effectively in their daily lives. It has 1,000 member programs across 50 states and works with 30 partners in 25 countries to provide a wide range of adult literacy and basic education services to vulnerable populations. ProLiteracy builds capacity among frontline literacy providers by modeling proven instructional approaches, developing affordable, evidence-based learning resources, and providing professional development and technical assistance. ProLiteracy was formed by the 2002 merger of Laubach Literacy International (founded in 1955) and Literacy Volunteers of America (founded in 1962). For more than 60 years, ProLiteracy has scaled successful practices and driven advocacy efforts by activating its grassroots network, resulting in a broad and sustained effort to improve and advance adult literacy at the community level.