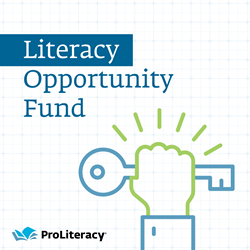 "The Nora Roberts Foundation believes in the tremendous power of literacy to create equity, access, and opportunity. Adult literacy organizations across the country, their staff, tutors, volunteers, and students are all working towards a healthier, more inclusive, more just society." said Kat Pong
SYRACUSE, N.Y. (PRWEB) November 23, 2021
On Tuesday, November 23, 2021, ProLiteracy launched a new grant program, the Literacy Opportunity Fund, for organizations in the United States that provide literacy education services directly to students. These local literacy grants will be funded by the Nora Roberts Foundation and administered by ProLiteracy. This announcement is part of ProLiteracy's five-year strategic plan to increase operational effectiveness of local programs and expand the role of ProLiteracy as a grant funder for local adult literacy programs.
Volunteers, teachers, and organizations are working in communities across the country to serve the 43 million adults who cannot read, write, or do basic math above a third-grade level. ProLiteracy believes that every adult has a right to literacy, and the Literacy Opportunity Fund will provide organizations with the general operating support they need to effectively and efficiently serve their students.
The Nora Roberts Foundation is contributing $750,000 annually for the initial three-year launch of the Literacy Opportunity Fund. Registered 501(c)(3) nonprofit organizations in the United States that provide literacy education services directly to students may apply. Grants will provide general operating support, with no further restrictions. Grants are not need based. This funding will help programs increase their overall impact and their ability to serve learners.
"There are 43 million adults in the United States who lack basic education and literacy skills. For adult students, literacy is a window to the world," says Mark Vineis, president and CEO of ProLiteracy. "Time and time again, when we ask what our programs need most—it's funding. ProLiteracy is proud to administer grants from the Literacy Opportunity Fund to ensure organizations can increase their impact and continue to serve students across the nation."
"The Nora Roberts Foundation believes in the tremendous power of literacy to create equity, access, and opportunity. Adult literacy organizations across the country, their staff, tutors, volunteers, and students are all working towards a healthier, more inclusive, more just society." said Kat Pong, Vice president of operations at the Nora Roberts Foundation. "ProLiteracy is a leader in the field of adult basic education and literacy and we are proud to support their Literacy Opportunity Fund."
ProLiteracy will notify ProLiteracy member organizations and literacy organizations when to apply for the Literacy Opportunity Fund in the coming months. Grant awards will be made on a quarterly basis. ProLiteracy anticipates awarding 150 grants per grant year, directly to the local organizations. For additional information, visit http://www.proliteracy.org/LiteracyOpportunityFund.
###
About ProLiteracy
ProLiteracy is the largest adult literacy and basic education nonprofit membership organization in the nation. ProLiteracy has been the leader in adult literacy content development, programs, and advocacy for more than 60 years. ProLiteracy works with its member organizations to help adults gain the reading, writing, math, English, and digital skills they need to be successful. ProLiteracy advocates on behalf of adult learners and the programs that serve them, provides training and professional development, and through its publishing division, New Readers Press, creates and distributes materials used in adult literacy and basic education instruction. ProLiteracy has 1,000 member programs in all 50 states, and works with 21 nongovernmental organizations in 35 developing countries. For more information, visit ProLiteracy.org. You can follow ProLiteracy on Facebook, Twitter, Instagram, and LinkedIn.