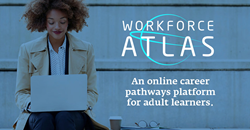 "As millions of unemployed Americans are forced to seek new employment, they may need to gain additional skills or credentials in order to qualify for available, good paying jobs. Workforce Atlas can help them do exactly that."-Michele Diecuch, ProLiteracy Senior Program Director
SYRACUSE, N.Y. (PRWEB) January 06, 2021
ProLiteracy, the largest adult literacy and basic education membership organization in the U.S., is pleased to announce that Workforce Atlas, its career pathways platform for lower-skilled adults, will be featured on the Behind the Scenes television show hosted by actor, Laurence Fishburne.
Workforce Atlas is a free online career pathways platform that assesses a person's work interests and skills along with their literacy and numeracy levels. Once an adult completes the assessments, they are directed to recommended occupations, online resources, and local education providers that can help them achieve their education and career goals. ProLiteracy designed Workforce Atlas for adults with low reading, numeracy, or English-language skills, although it can be used by any adult seeking to improve their quality of life with a new career path.
Behind the Scenes is an award-winning television program hosted by Laurence Fishburne that highlights the evolution of education, medicine, science, technology and industry through inspiring stories. The Behind the Scenes episode featuring Workforce Atlas will be distributed to public television channels across the U.S. in the month of January. Additionally, a national advertisement featuring ProLiteracy will be aired on Fox Business Network on January 7th and 10th.
According to findings from the Program for the International Assessment of Adult Competencies (PIAAC) Survey of Adult Skills, there are 43 million adults in the United States with low literacy or English language skills.
The COVID-19 pandemic has exacerbated the barriers faced by lower-skilled adults. Michele Diecuch, senior program director at ProLiteracy, says, "Unfortunately, individuals with lower literacy levels were disproportionately impacted by the pandemic. Many of the industries hit especially hard employed a higher number of adults with lower literacy or English skills. Platforms such as Workforce Atlas are even more crucial now. As millions of unemployed Americans are forced to seek new employment, they may need to gain additional skills or credentials in order to qualify for available, good paying jobs. Workforce Atlas can help them do exactly that."
ProLiteracy is a nonprofit organization that believes that every adult has a right to literacy. For more than 60 years it has been working with passionate people and organizations across the globe to create a world where every person can read and write. ProLiteracy president and CEO Kevin Morgan says, "When adults learn how to read and write, or when non-native English speakers acquire English-language skills, they are more likely to lift themselves out of poverty, lower health care costs, and find and keep sustainable employment. The Behind the Scenes program featuring Workforce Atlas comes at a critical time to help low-skilled, out-of-work adults gain the skills needed to find employment and earn livable wages to support their families."
About ProLiteracy
ProLiteracy is the largest adult literacy and basic education nonprofit membership organization in the nation. ProLiteracy is the leader in adult literacy content development, programs, and advocacy for more than 60 years. ProLiteracy works with its member organizations to help adults gain the reading, writing, math, English, and digital skills they need to be successful. ProLiteracy advocates on behalf of adult learners and the programs that serve them, provides training and professional development, and publishes materials used in adult literacy and basic education instruction. ProLiteracy has 1,000 member programs in all 50 states, and works with 21 nongovernmental organizations in 35 developing countries. For more information, visit ProLiteracy.org. You can follow us on Facebook, Twitter, Instagram, and LinkedIn.
About Behind the Scenes
Behind the Scenes is an award-winning television program hosted by Laurence Fishburne that highlights the evolution of education, medicine, science, technology and industry through inspiring stories. The show specializes in short-form public television stories that highlight specific industries and topics around the world. The show features industry professionals and groundbreaking organizations. Behind the Scenes host Laurence Fishburne is an Emmy Award-winning and Academy Award-nominated actor.