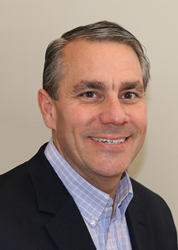 "Bret has been instrumental in ProMach's growth since joining us almost a decade ago and his direction, leadership, and poise make him an indispensable business partner to keep ProMach at the forefront of the packaging industry for years to come." --Mark Anderson, ProMach President & CEO
CINCINNATI (PRWEB) January 08, 2020
ProMach, a worldwide leader in packaging machinery solutions, announced today that Bret Ranc has been named as the company's new Chief Operating Officer. Reporting to Mark Anderson, President and CEO of ProMach, Mr. Ranc will lead the company's business operations for long-term organic growth, ensuring all ProMach product brands work together to achieve the company's business goals. Reporting to Mr. Ranc will be each of the company's business units as well as the ProMach Business Process function.
"I am proud and excited to promote Bret Ranc as our COO," said Mr. Anderson. "He has been instrumental in ProMach's growth since joining us almost a decade ago and is a textbook example of how we like to develop and grow talent internally within the ProMach organization. He has held increasing leadership roles within ProMach and has driven his groups to strong growth, while developing an excellent leadership team to support it. Bret truly understands our culture and methods that have made ProMach successful and he will excel at helping ProMach's over thirty product brands scale and grow as we continue to expand and evolve. His direction, leadership, and poise make him an indispensable business partner and Bret and I will operate very closely to accomplish our goals of organic growth, acquisition integration, and continuous improvement to keep ProMach at the forefront of the packaging industry for years to come."
Mr. Ranc has served ProMach in various roles, most recently as President of ProMach's Secondary Packaging Business Unit, and prior to that as Senior Vice President of ProMach's Material Handling Group. He joined ProMach in 2011 with the acquisition of Shuttleworth, where he held various operations and sales leadership roles, and was promoted to Vice President and General Manager of Shuttleworth shortly following the acquisition.
Mr. Ranc earned his B.S. in Mechanical Engineering from Purdue University, his M.B.A. from Indiana University, and is currently the Chairperson for the Industry Relations Committee for PMMI, the Association for Packaging and Processing Technologies.
"We have an outstanding management team, and I'm excited to work with them to continue driving Mark's vision of delivering complete packaging line solutions to our customers across the globe and to ensure ProMach continues building and expanding its strong industry leadership position," said Mr. Ranc.
Ryan McCart, formerly ProMach's Senior Vice President of End of Line, will step in as President of ProMach's Secondary Packaging Business Unit, backfilling the role vacated by Mr. Ranc.
Founded in 1998, ProMach is a family of best-in-class packaging solution product brands serving manufacturers of all sizes, geographies, and industries. ProMach product brands operate across the entire packaging spectrum providing solutions for nearly every application, including integration and engineering services for complete integrated packaging lines.
About ProMach
ProMach is a family of best-in-class packaging solution brands serving manufacturers of all sizes and geographies in the food, beverage, pharmaceutical, personal care, and household and industrial goods industries. ProMach brands operate across the entire packaging spectrum: filling and capping, flexibles, pharma, product handling, labeling and coding, and end of line. ProMach also provides Performance Services including integrated solutions, design/build, engineering services, and productivity software to optimize packaging line design and deliver maximum uptime.
ProMach designs, manufactures, integrates, and supports the most sophisticated and advanced packaging solutions in the global marketplace. Its diverse customer base, from Fortune 500 companies to smaller, privately-held businesses worldwide, depends on reliable, flexible, technologically advanced equipment and integrated solutions. ProMach is headquartered near Cincinnati, Ohio, with manufacturing facilities and offices throughout North America, Europe, South America, and Asia. For more information about ProMach, visit http://www.ProMachBuilt.com.